Weeknotes
Weeknotes
Weeks 218-219
With two and a half weeks of travel behind us, and just a few more days left on our HDL tour, the most common question Justin and I have been asked is, "are you ready to kill each other?" On the contrary, we're lucky to travel well together. This kind of trip would be impossible otherwise.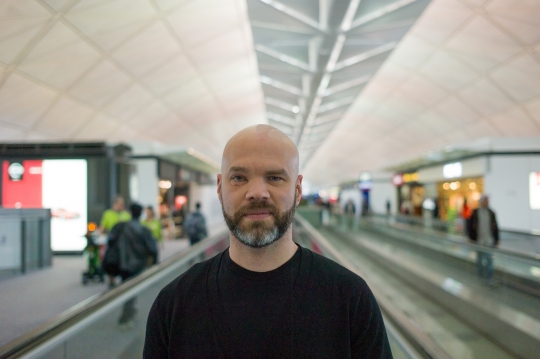 Justin is tired.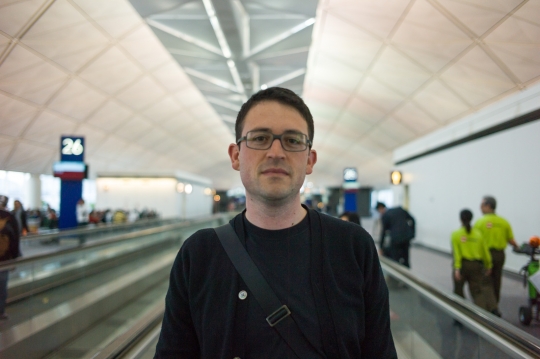 Bryan is tired.
Today is London, fresh off the plane from Dubai. Later today we will give a talk to the MA Design Futures students at Goldsmiths University. I'm especially looking forward to this, as I hope we can spark a discussion about the boundaries of the applicability of design fiction. HDL has been an attempt to push beyond the fictive and that's one of the things we're most proud about.
Dubai was a quick stop, but we enjoyed a couple of morning sessions hosted by Noah Raford in the Prime Minister's Office. The conversation there was focused on improvement of services, the importance of synthesis (and thus design ability), and prototyping towards solutions. Many thanks to Noah for putting these discussions together. Although it's more recognized for deep spending on hard infrastructure, it was impressive to see the amount of attention being poured into the soft infrastructure in Dubai as well.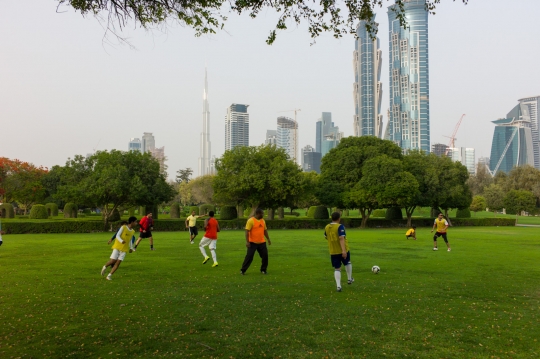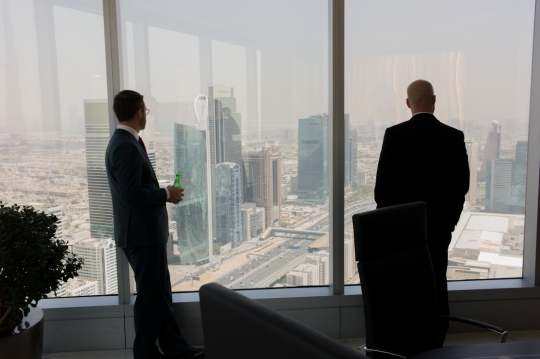 Noah and Justin survey Dubai from the PM's offices.
We also managed to zip down to Masdar City, which has long been part of our discussions around Low2No. We've seen Low2No as an alternative model to Masdar, one that's more appropriate for cities with legacies of built form, legislation, and financial regimes that cannot be swept aside. Seeing Masdar in person was enlightening. It's hard for such a hugely ambitious project to ever meet the hype, and there's certainly plenty of room for Masdar to grow into the reputation that it has created for itself. Still, what is happening there now may end up being more interesting than the original Foster master plan. As the planning adjusts to a smaller scope and a smaller budget, perhaps something more modest and more replicable will emerge?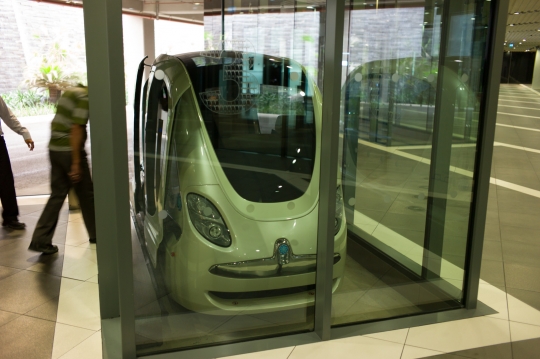 Driverless Personal Rapid Transport unit at Masdar City.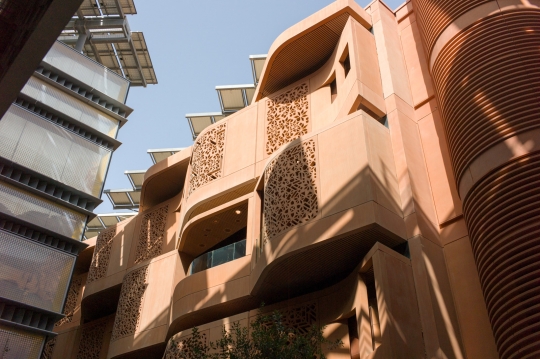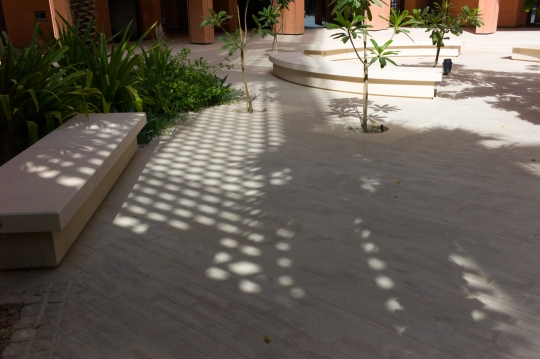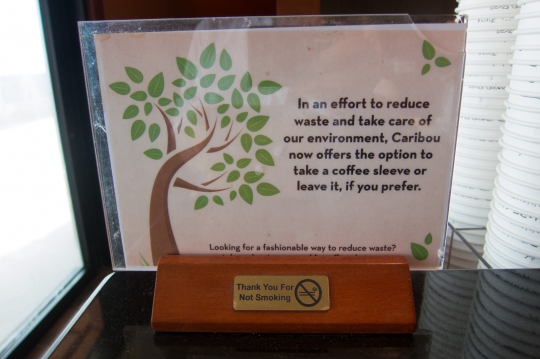 It makes sense to start with small steps, but maybe this is a bit too small?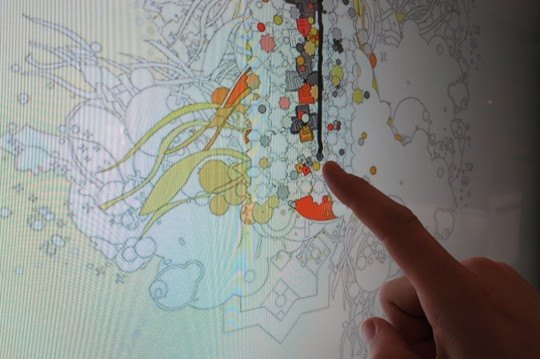 Generative art 'guestbook' at Masdar.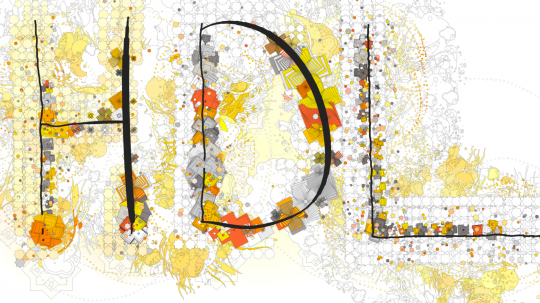 We arrived to Dubai via Hong Kong, where Justin and I stopped over to meet with Cees de Bont and Alvin Yip of Hong Kong Polytechnic University School of Design. They shared insights about the current state of design in China that have evolved since our last visit there in 2009, including a growing recognition of the role for designers in social innovation. In fact the Jockey Club, which makes a substantial purse off of track betting, has endowed the Design Institute for Social Innovation. They are just booting up now, but we will pay close attention. It was encouraging to hear about these plans, as it makes the HDL closure easier. HDL is fading out, but the ideas and the practices of strategic design certainly are not.

HKPU's new School of Design building is almost ready. And it's massive!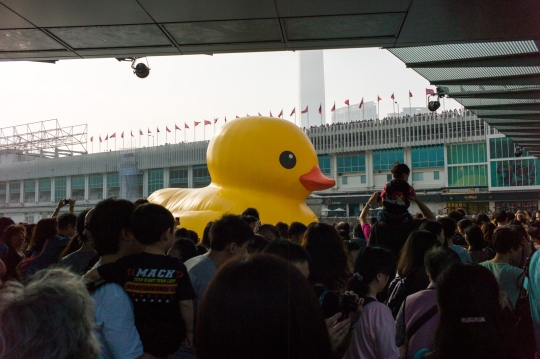 Hong Kong is currently in love with a giant rubber ducky.
Before Hong Kong it was Tokyo. Justin describes it thusly:
After an overnight from Sydney, we landed on beautiful spring morning in Tokyo. The privilege of arriving at Haneda Airport, close to the center, is that some of the scale, complexity and diverse functions of Tokyo are revealed. From the air, Japan's industrial base, which is mostly absent in Hong Kong, seems robust, busily making small things very well.




We were invited by the University of Tokyo i.School to give a talk to students, staff and like-minded practitioners on strategic design and our projects at Tokyo Midtown Design Hub. Our gracious hosts Fumiko Ichikawa and Hiroshi Tamura had teed up an engaging facilitated workshop following the talk where the audience was asked to define "what is strategic design" (which we probably didn't help them with during our talk!) and how could the approach be used to aid in tsunami recovery. With this group the idea of building a rigorous and active feedback loop between understanding the nature of the challenge systemically, and acting to make change via proposals and projects, clearly resonated.


Groups sharing their ideas about strategic design after our talk. Photo: Hiroshi Tamura

Similarly, during a workshop we ran at the i.school on the following day with Tokyo's leading social innovators, the need to better connect thinking and doing was a popular topic. I was struck by how the tsunami had cracked open the opportunity for individuals to rethink and possibly begin to take on Japan's structural challenges such as the widespread expectation lifelong employment with a single large employer or the lack of funding for smaller enterprises. The social entrepreneurs in the room seemed well equipped to compel Japan to remake itself as a more resilient society after the crisis.


Photo: Hiroshi Tamura


Photo: Hiroshi Tamura


Photo: Hiroshi Tamura

On our last day in Tokyo, we had the pleasure of visiting ETIC, which has been working for two decades to ignite entrepreneurship among Japan's youth. Their experience during that time suggests that Japan's entrepreneurs are heading in the right direction as they are now more professional and impact oriented than ever.

We also visited the Nippon Foundation, which like Sitra, has a broad mandate to spur innovation nationally. Impact, measurement, outcomes, etc. are all ideas that are in the water in their organization as well.

Tokyo was a wonderful stop on our tour. On the one hand, their highly sophisticated culture has produced incredible gains for society, but on the other the dominate cultures of decision making seem opaque and unbendable to many. But events like the tsunami are providing a way in for social innovators like the ones we met at the i.school.
Before that? Australia.
While Justin and I have been traveling, Marco was also on the road with a stop in Amsterdam at a Labs summit and a stop in London at the Institute for Government. Written up here and tweeted here.


Best part of a long flight is that you can write emails without receiving any. It's pure inbox upside.
Amidst all of this, Legible Practises is going to press. No pictures yet of the printing process, but here's a glimpse of what it will look like: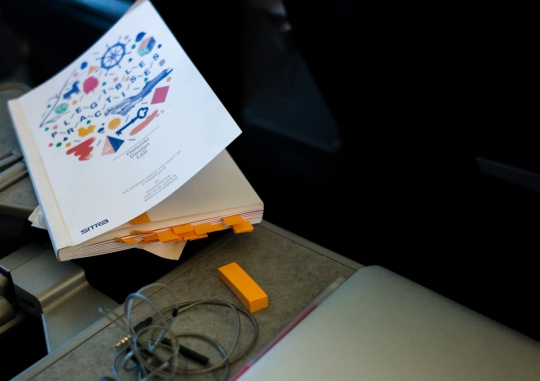 Editing the final draft of the book.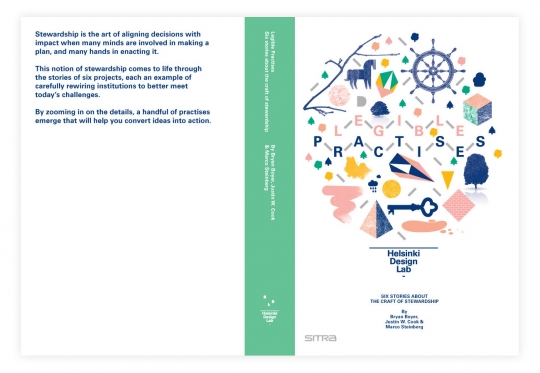 Copies will be available at HDL 2013.
Weeknotes
Week 217
Toronto, Melbourne, Sydney. That was week 217. In other words, a blur.
Some images: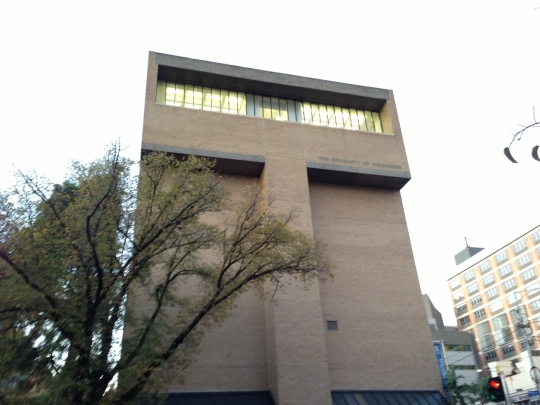 Friend-of-HDL Rory Hyde organized a talk at the University of Melbourne Faculty of Architecture that ended with a great discussion about the future of architectural education + strategic design.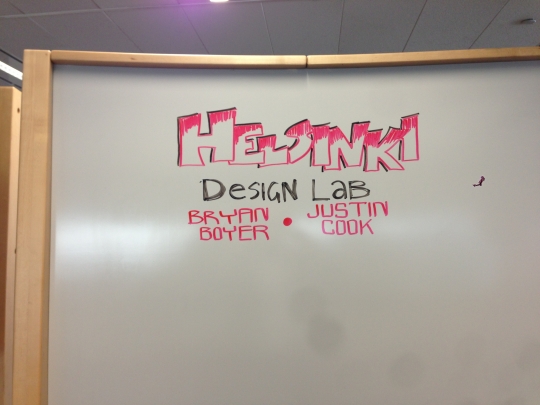 The Difference, a unit of PWC, hosted us for a morning discussion in Sydney. Thanks to Martin Stewart-Weeks of Cisco for the introduction.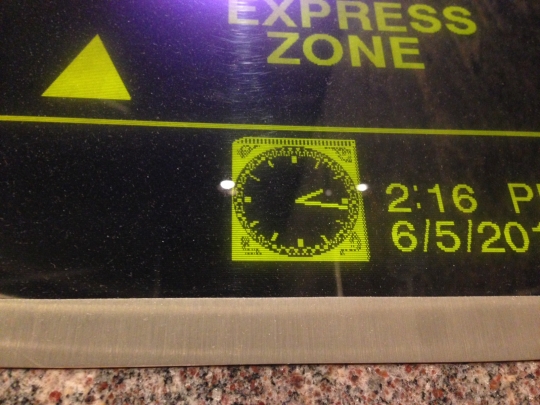 Government offices in Sydney, where we gave a lunchtime talk with a group of senior civil servants, have an a very modern building with a thoroughly antiquarian electronic clock. Nice touch.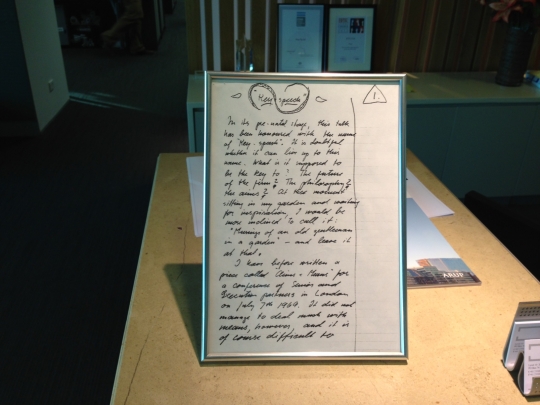 And we ended a busy day in Sydney with a stop at Arup, who keeps a copy of the Key Speech by the front desk.
Next stop: Tokyo.
Weeknotes
Weeks 215-216
The last two weeks have been consumed by the task of finalizing our latest and last HDL publication. It's a book called Legible Practises that contains six stories about the craft of stewardship. Huh? Stewardship, as we define it, is the art of getting things done when many minds are involved in the conceptualization and many hands in the implementation. The six stories we look at are each examples of changing the tires of a car while driving. In other words, changing systems while they're still humming (or clunking and sputtering) along. More on this shortly, when it's actually out the door. Right now a more pressing concern weighs on our minds as Justin and I camp out at a cafe in Toronto: the weather.
Toronto is warmer than expected. Naturally, the day we spend enjoying the city and meeting with groups like The Moment, MaRS Solutions Lab, Ontario College of Art and Design Strategic Innovation Lab, and MASS LBP is the day that's rainy and gray. Today we are frantically finishing work before hopping on the next flight and it's gorgeous. Nevertheless, this has been another inspiring visit to Toronto thanks to the forethought and preparation of Social Innovation Generation. Thanks to Tim and Satsuko!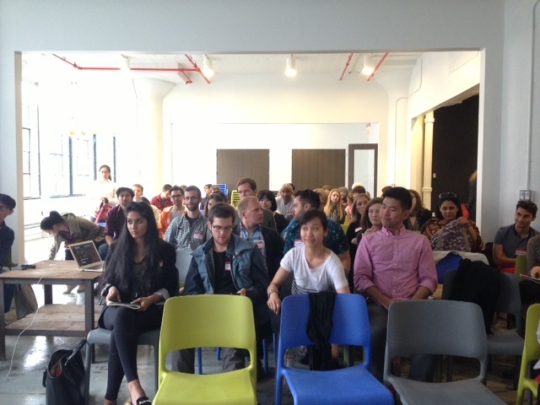 Hello, Centre for Social Innovation!


A morning discussion about strategic design, ethnography, politics, and more hosted by SIG and The Moment
This is the second stop on our HDL Moi Moi tour. As part of closing down the initiative, we're visiting people in New York, Toronto, Melbourne, Sydney, Tokyo, Hong Kong, Dubai, London, and Dublin to share what we've learned. On Sunday Justin and I met in NYC to give a talk at the Centre for Social Innovation, a newly opened coworking facility catering to social enterprises and others with similar interests. It was an honor to be part of the first event that they've ever hosted in the lovely new space.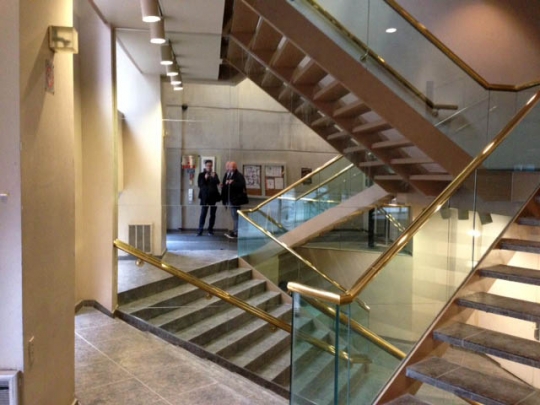 Welcome to the matrix... of stairs.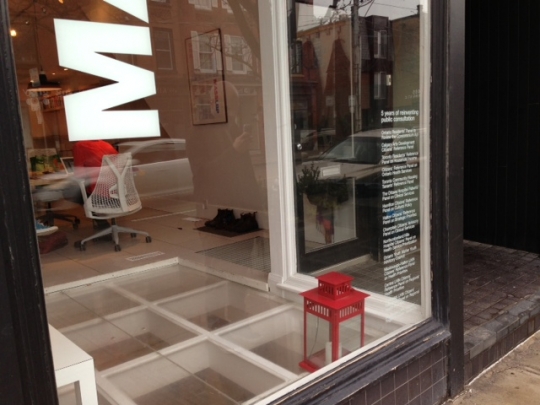 MASS LBP's offices have a CV of sorts on the window. Nice.
In a couple hours Justin and I will load ourselves onto a plane bound for Melbourne. There we have a public talk lined up at the University of Melbourne Faculty of Architecture (see you there?) as well as other meetings around town.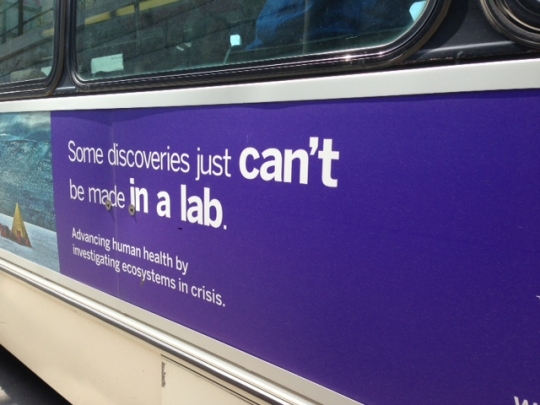 Why we're out and about.
As we move from venue to venue I feel guilty because we keep mentioning the publication that we are about to complete. In fact, if I don't commit all of the final edits before we're airborne, it's going to be too late. So the pressure's on. Justin's working on edits now—very seriously, as you can see.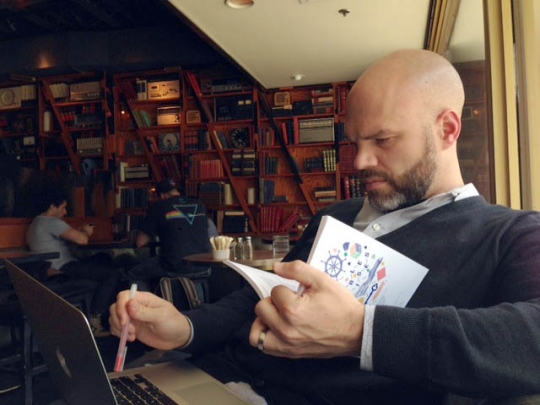 T-minus 40 days.
Weeknotes
Weeks 213-214
This week we hit an important milestone in text. Monday was a long day but we managed to deliver a 100% manuscript for the next (and final) HDL book. We're still figuring out exactly what to call it, but this one is about how people use projects to develop new solutions and new cultures of decision-making simultaneously.
After handing the draft off to the graphic designers I felt an almost immediate sense that we had left out a few things. We'll revisit that after the weekend. In the meantime, things like this are flowing into my inbox: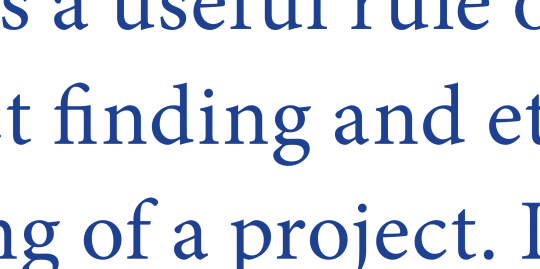 That's a draft of the layouts (zoomed way, way, way in). I've come to appreciate the shapes of the letters in the typeface Minion, which we always use. Quite a handsome gee, no?
As for unexpected details, here's another one that comes courtesy of the new Finnish passport design:
A pair of upcoming events deserve a mention here. First, Marco will be at the Institute for Government in London on May 10 to discuss design-led policy. More details here. Justin and I will do a similar session co-hosted by the Centre for Social Innovation in New York and the Parsons DESIS Lab. That's April 28th and you can register here.
Hope to see you at one of those events.
Last week Justin and Marco were in Boston to assist MIT's Collaborative Initiatives with a pair of studios. Things up there went well and it ended before the city suffered an attack and subsequent chaos. Luckily everyone is safe and accounted for, but our thoughts are with those who were less fortunate.
Weeknotes
Weeks 210-212
Video crews everywhere. That's the first impression of my time in Bangkok, where Marco and I spent a week observing and coaching Future Innovative Thailand (FIT) as they kicked off their initiative by running three parallel studios. Comes with the territory when some of the country's most recognized political leaders are sitting in on the studios. No pressure.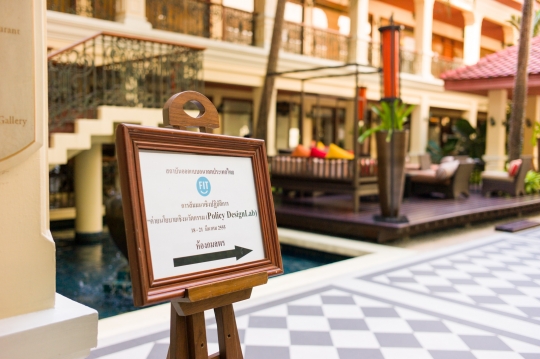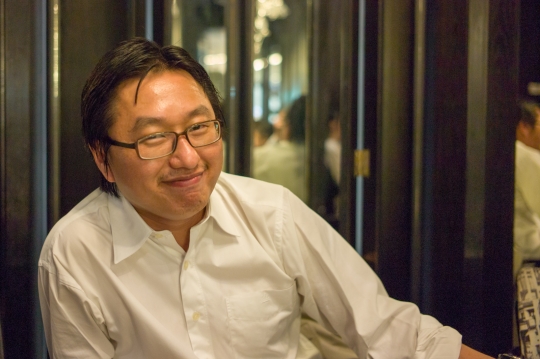 Our host, Nuttaphong, adapted the studio model to his own context and purposes and we got to see it all play out. Given the language, it was not always easy to follow along but we still gleaned a lot from being there. Thanks to our hosts for their hospitality, enthusiasm, and engagement during an impressive (and exhausting!) week. Congratulations to Nuttaphong and the team on the launch of their initiative.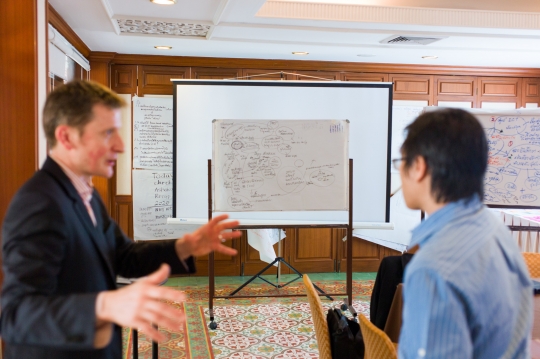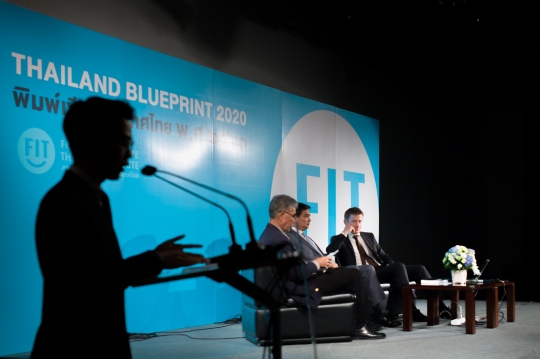 Perhaps the biggest difference between these studios and the ones that we have done in the past was the presence of 'owners'—mayors, MPs, and other decision makers—in the room for the length of the week, as opposed to just at the end for the review. We never attempted to staff the studio in that way because, frankly, we didn't think it was possible to get a politician to clear that much time in their perpetually full schedule. Thailand, on the other hand, proved that it can be done!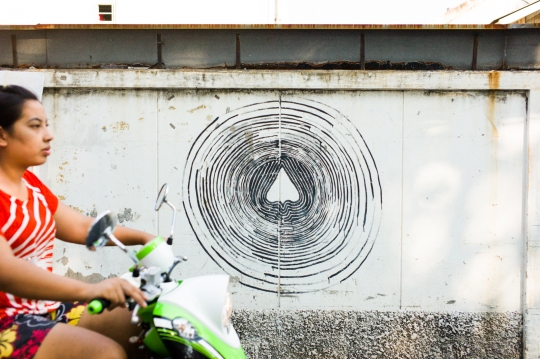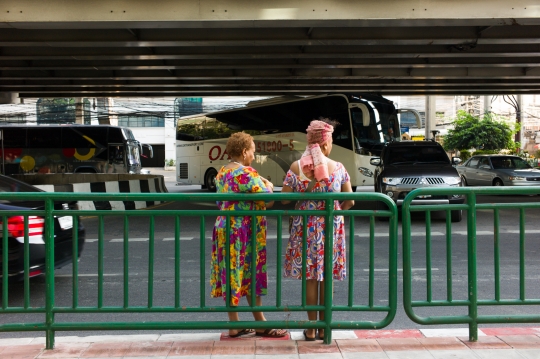 For me one of the most useful realizations was also something that I probably should have recognized before. When we wrote In Studio we left a coy blank spot in the middle. Perhaps because it's labeled a 'model' people often assume that it's a model of facilitation. Rather, the studio model is about everything but the tactics of group facilitation. In that sense it's dogma-free on purpose. If U Theory is your thing, OK. If you prefer another means of facilitation, fine. You can use whatever process you are comfortable with so long as you move from learning and insights, to architecture of problem, to architecture of solutions, and you end with a review.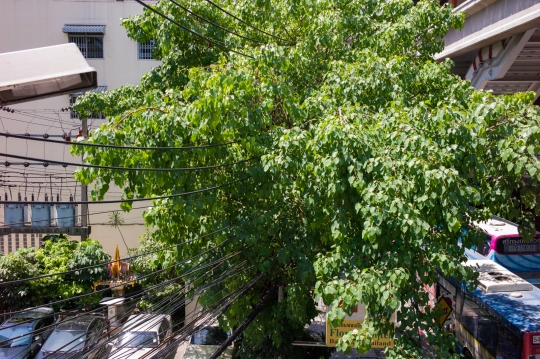 Yes, Bangkok was good in that it showed us how the studio plays out when the makeup is a bit different. When the parts are reconfigured. As for content, the focus on good governance (including anti-corruption) was an issue that was constantly in the air. As a topic that did not come up very often in Finland, I enjoyed talking through these issues with the studio teams. Scale was on the top of everyone's mind too, as it should be. How can we scale up good ideas quickly? Finally, it also showed us a few areas where we should revise the How-Tos in the book. If we manage to get a Print on Demand version done before June, that is!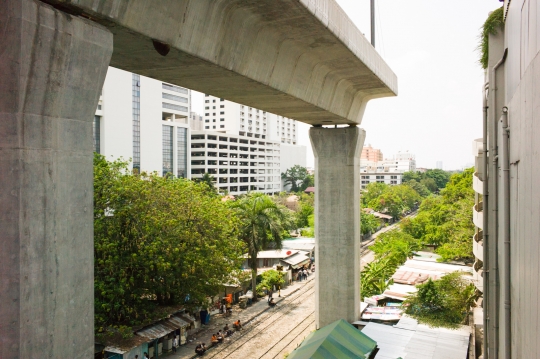 Books, books, books. I spend most of my time writing these days, with Marco and Justin doing the same. We are about two weeks out from the 100% draft deadline for a title we're tentatively calling Stewardship: Leading into Practice. This will be the final HDL publication.
Between bouts of writing Marco has been on the horn with groups in the UK, US, and Switzerland as well as tending to meetings in Helsinki. I enjoyed a morning meetup with Eli Malinsky to learn more about the Centre for Social Innovation's expansion to NYC and also spent an afternoon with Eduardo Staszowski's students at the Parsons/New School School of Design Strategies. These were violations of a (not so) strict moratorium on all appointments until after the book is drafted, but they were worthy transgressions.
The Brickstarter book, by the way, is still forthcoming. It is coming along and we're hoping to have it completed before the end of the month but no promises yet.
The Design Exchange blog is still hopping with activity from Hella and Sirpa.
So then, back to the writing. And to the event prep. And the trip prep. And the coffee, actually.
T-Minus 66 days.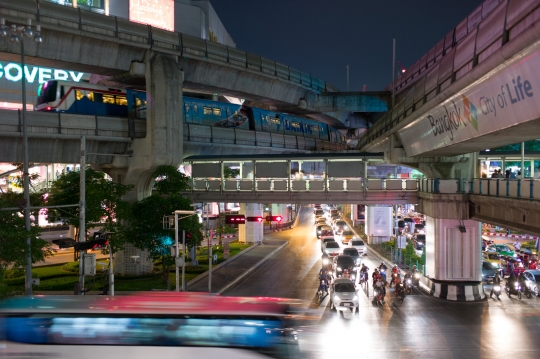 Weeknotes
Week 209
Good morning from Bangkok. Marco and I are here for the week as the Future Innovative Thailand Institute launches their Blueprint programme, which is an initiative to redesign policy around education, social economy, and governance. They've been using our studio model as the basis for the work. But more about that next week.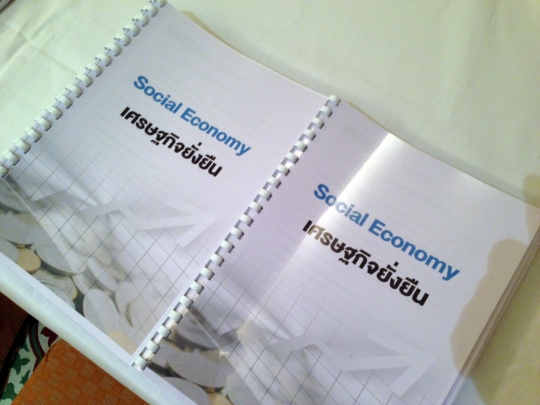 Last week we were able to post the finalized details for HDL 2013. You'll find more here, as well as registration which is open to everyone. The summary is that we will have an event in three phases: conference, conference with drinks, drinks. We want it to be a chance for the community of strategic designers to gather and if that sounds good to you, we hope you'll join. Here's who will speak:
Meanwhile, book logistics have been ruling my life. Last week included writing odd little things like the paragraph below and occasionally drawing very bad pictures to go along with it:
We see a woman standing, she is tapping a seated gentleman on the shoulder (he is wearing a coat) while holding a microphone behind her back. She's about to ask him to stand up and make a pitch but he doesn't know it yet. Perhaps we see some abstract indication of the other people at the table, or at nearby tables.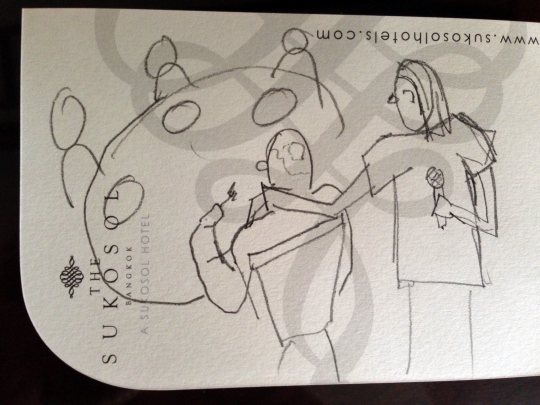 That's part of the briefing prepared for our illustrator who is going to be making drawings of different 'points of practice'. Since a lot of the book is describing abstract notions, we are taking some care to bring a visual dimension to the storytelling that errs on the side of being overly concrete. Before jumping into this I didn't have much of an idea how to brief an illustrator but it seems to be working.
What else? Marco was staying put in Helsinki, working on Design Exchange. He'll have Sara and some people from the City of Lahti over for a show-and-tell at Sitra soon.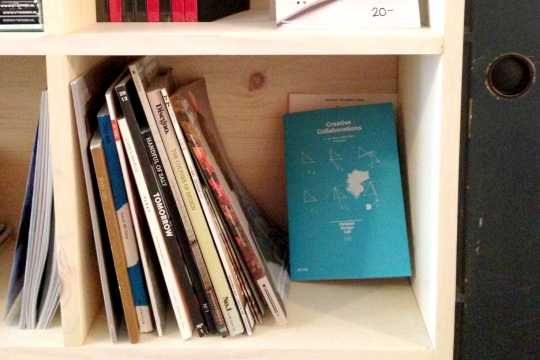 On my way to Bangkok I made a quick stop in San Francisco, where I spotted our Creative Collaborations book on the shelves at Makeshift Society. Great!
T-Minus 84.
Weeknotes
Weeks 207-208
In conversation these days I catch myself talking about "another six months" of Helsinki Design Lab, but we've only four months left. Maybe we should change the weeknote titling from incremental updates to a T-Minus format. T-minus 94 days.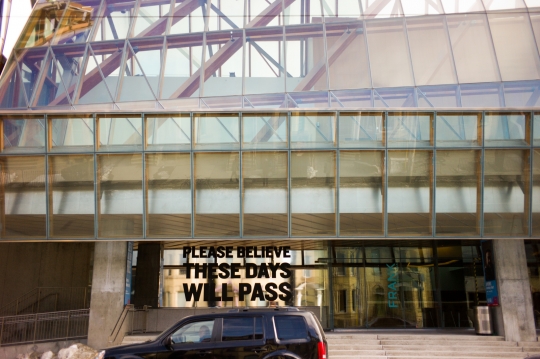 The HDL 2013 event is heavy on our minds these days. It will occur in three seamless parts: conference, conference with drinks, drinks. We'll be at Kellohalli, the same space that hosted Open Kitchen, so it will be a pleasure to be back with our friends Antto, Elina, Jonna, and the rest of the crew. The outdoor spaces at Kellohalli will be in full bloom by June, and with 19 hours of daylight you will have plenty of time to enjoy them. We are planning to start the event around 11am and go into the evening to 11pm or later if people are up for it. June 10th is a monday, but why let that stop you?
Sign up here for further information and we hope to have the actual registration and final details available next week.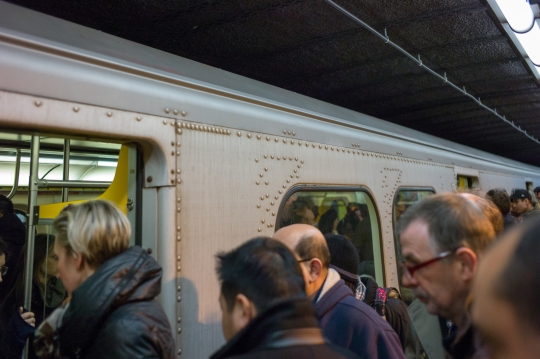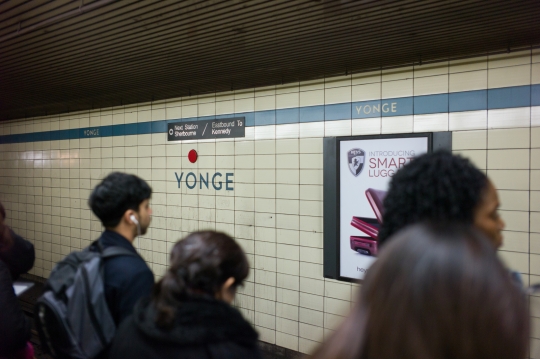 Details from Toronto's subway
My focus is almost entirely on the as-yet unnamed book, which provides a never-ending supply of lists to make, emails to write, things to confirm, and schedules to align. Observant readers will notice one thing missing from that list… writing. That's happening too, but not as smoothly as I would like.
Recently I had the pleasure of meeting Fumiko Ichikawa, whose business trip to NYC provided a serendipitous opportunity for us to plan an HDL workshop in Tokyo with the i-School and potentially some other partners this May.
As we prepare to close HDL it's encouraging to see the studio model being adopted and adapted by others. This week I was in Toronto for a meeting at Evergreen (a remarkable organization, by the way) and caught up with people from SIG and MaRS who are in the midst of setting up their own lab, inspired in part by HDL. Next week Marco and I head to Thailand to assist the Thai Health Promotion Foundation as they launch an education programme also inspired by our studio model. This is why we spend time writing blog posts and making our practice legible. It's heartening to see the ideas and approach spread.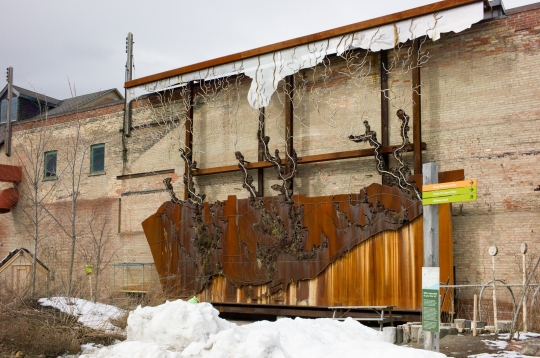 This excellent map at the Evergreen Brickworks shows Toronto's network of ravines rather than its congested streets.
T-minus 94 days.
Weeknotes
Weeks 203-206
There's one thing we're not doing enough of right now and that's writing. Between Marco, Justin, and myself we have about four pieces of writing due to various groups and I think we've found just about every possible means of doing anything but writing.
Less about what needs writing and more about what has been written. Our In Studio book is now (finally!) available for sale online thanks to the MIT Press bookstore.
Marco has been in Brussels for the Commission and Sweden for the Swedish Industrial Design Association. Justin is a new father (congratulations!) so he has mostly been on parental leave, but here and there I sneak him an email as we nail down our travels for April and May. We've also had help from Fumiko Ichikawa, with whom we are putting together a workshop in Tokyo and Tim Horton, who we hope to see again in Australia. Other stops are likely to be Toronto, London, Dublin, and Dubai. But not in that order, hopefully.
And in between, lots of time on the horn to line things up for our final HDL event. We're getting close to having a complete roster for the HDL 2013 closing event on June 10th in Helsinki (sign up here to be notified when we have full details). This event will be a gradient: we'll start around 11am with talks, move to talks with drinks in the late afternoon, and end the night by 11pm in celebration mode. The talks we're lining up are a mix of people doing things similar to HDL and people whose work has inspired us. Marco, Justin, and I will probably also give a talk or two about our work, and about strategic design in general.
More than anything, we want this event to be a good excuse for strategic designers to get together because there still isn't really an event or publication that anchors this community. When we relaunched HDL four (coming on five!) years ago we wanted it to be a platform to bring together disparate but similar threads spanning multiple disciplines and geographies. Hopefully HDL 2013 does the same.
Weeknotes
Weeks 201-202
We've been taking care of infrastructure lately. Still some work to be done there, but not a ton. This means: being on the horn to convince people to help us with publications and other wrap-up related efforts; writing contracts to hire them; organizing bits of the office; catching up on email so that we're free from that nagging feeling of being behind.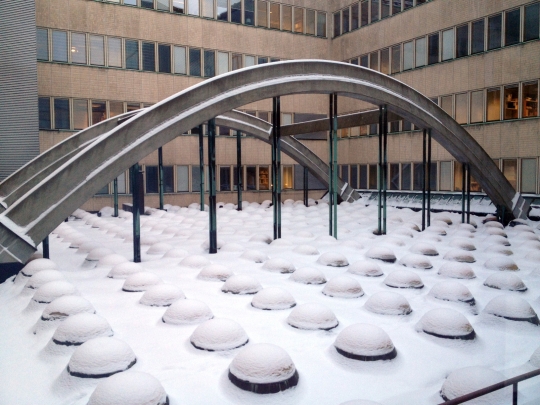 Winter!
The Design Exchange Programme is hitting its stride. Sara is finishing up her year-long placement in the city of Lahti where she was helping them redesign their approach to public engagement. As Sara is also having a baby (congratulations!) she will not be continuing and we're sad to see her go. Nevertheless, her story has been blogged here (mostly in Finnish) and will remain for reference. Thanks for being our first very courageous embedded designer, Sara!
Sirpa at the Ministry of Employment and Economy and Hella at the Ministry of the Environment have also been blogging actively, including short summaries in English.
We ended last week by hosting a breakfast with members of the city, Tekes, and other organizations around town to talk about the possibility of taking Open Kitchen forwards. If this works, we'll have been able to play exactly the role that Sitra is best at: develop a new concept, test it out, and pass onwards bettered by iterated findings.
I've enjoyed following along the developments of some of our participants as they take steps now towards opening their own ventures. You can follow Jerome as he mounts a sourdough bread revolution in Helsinki. If you're lucky, you'll get a chance to try his products; the bread wowed us all during Open Kitchen.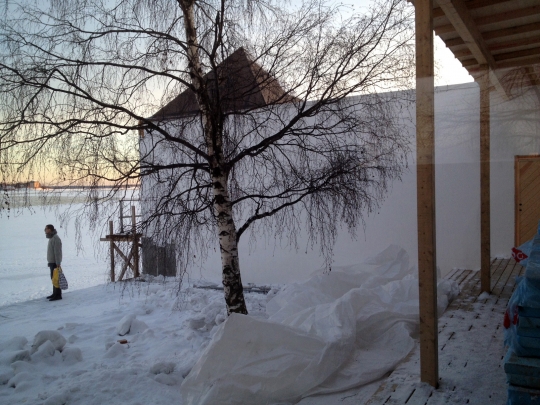 Snapshot from a visit to the Kulttuurisauna which is nearing completion.
Rory is waiting on me for final updates to the Brickstarter manuscript as I coordinate with Kali and Dan to get things just right. Meanwhile Rory is working with Bitcaves to take the manuscript forward into a book. This also serves as a reminder that I will soon need to think about revamping the Brickstarter website as we transition the active prototyping there to a project called AvoinKotka (Open Kotka).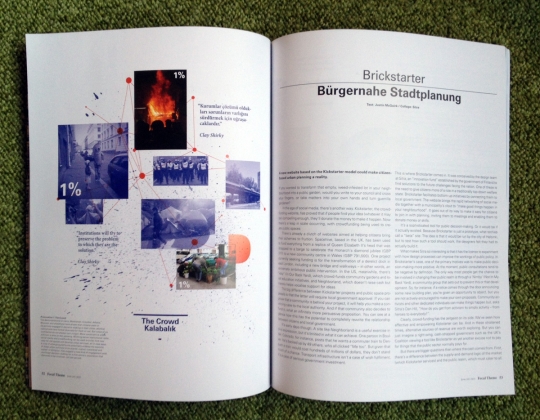 We were very happy to see Brickstarter included in a recent issue of the magazine form, The Making of Design, with an essay by Justin McGuirk. There's also now an online video of a talk I gave at the World Design Forum in Eindhoven last autumn which discusses Brickstarter and our other projects:
Not so sure about the graphics of this video. Those are not my slides!
This week Marco is back in the office after a busy trip to the US. He and Justin were visiting the Cleveland Clinic to see an implementation the work we put together during Stroke Pathways, a research project at Harvard that served as a proving ground for our current strategic design approach. Sounds like it was an enlightening trip but I haven't had a chance to catch up with either of them for more than a minute. That's because as Marco returns I'm packing up. Tomorrow I move to New York and will be based there from February onwards as we wrap up HDL. A big change, for sure, but since we've been traveling more or less constantly for the past four years it's not going to affect our collaboration much. Though it does mean I will be waking up for some very early phone calls.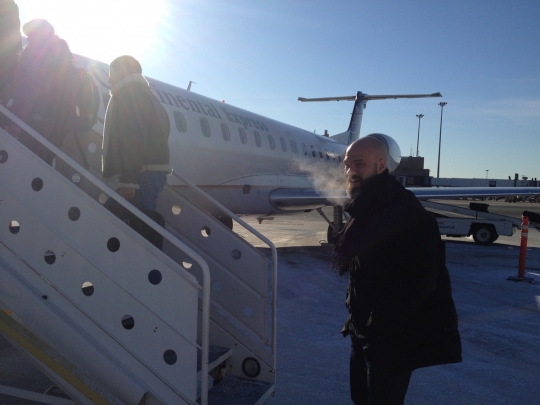 On the way to Cleveland.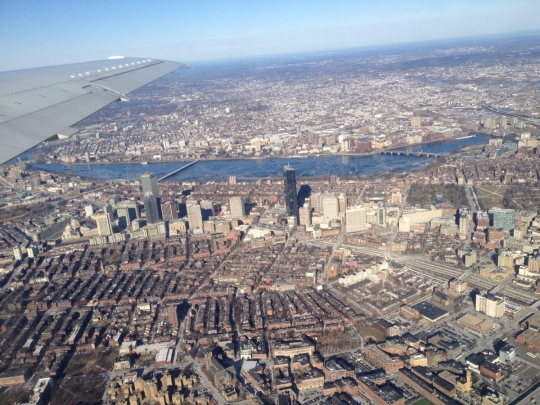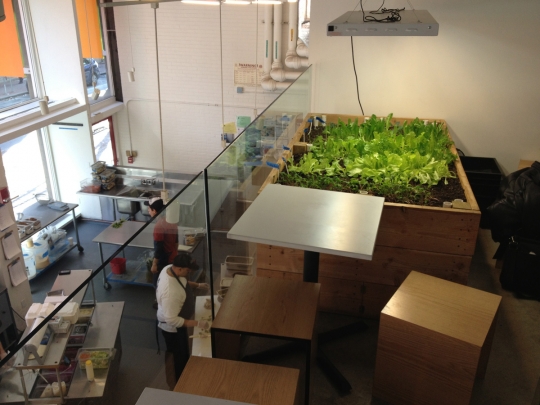 Justin and Marco visit the salad garden at Clover food lab.
While in the States Marco also had some meetings at MIT and then gave a talk at HarvardxDesign conference, which Justin and I have been advising and helping to get off the ground. Great stuff there and I swear the color similarities are just a coincidence!
We're still working through the responses to our HDL road show announcement, which means there's time for you to throw your name in the hat if you would like us to come give a talk.
Weeknotes
Weeks 197-200
Undoubtedly, readers of this blog have already read Marco's post from last week, but in case you missed it, we've recently made an announcement about the future of HDL. Hearing from the community around HDL in the wake of the announcement has been encouraging. Thanks to all of your for your continued interest in our work. I hope we are able to sustain it for the next five and a half months because we have no intention of slowing down.
On the contrary, there's still lots to do. With the ending point for HDL clearly marked on the horizon, we're entering a kind of Benjamin Button mode. We'll be getting back into the habit of writing how-tos, working from practical issues ("how to budget a project", "how to brief a photographer") through to some of the more fundamental aspects ("what abilities are needed in a design lab", "how do you pick projects"). We'll be talking through and explaining how we set up HDL so that the site becomes as useful an archive as possible for others, elsewhere looking to do something similar.
Marco and I have been spending time at the whiteboard tracing out a loose plan for the HDL closing event on June 10th. It's going to be free and open to all, so I hope you'll sign up and consider joining us. We're also keen to hear your feedback and questions about HDL and the work we've been doing. This will inform our efforts to ramp things down.
Back on the whiteboard, we've also been revisiting our proposed table of contents for the forthcoming book on stewardship as well as generally trying to get a handle on all the things we want to do before sweeping the floor and turning out the lights. Tomorrow we'll have a conference call with Justin and loop him in. This is one of the ways we usually work: a couple people bat ideas around until there's something there, then we make a little presentation to the others and start over.
Open Kitchen got a nice write-up in Kauppalehti recently. We're happy to see the Facebook group for the participants still active and are hoping to join them for a small reunion next week. Right now Mariaana, a journalist we asked to sit in on the programme, is writing up notes from each of the courses and we will be publishing those online as soon as we can. Next week we're also hosting a small gathering with some local stakeholders to see if we can find a more permanent host for the programme.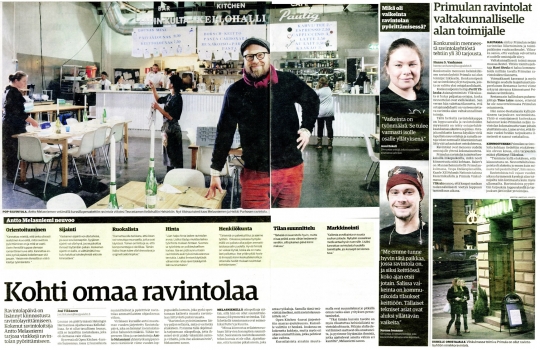 This blog post is the second of the night, behind what I just put up on the Brickstarter site. Over there we announced that Sitra will be publishing a Brickstarter book in 2013 (yup, more writing) as well as beginning a very small experimental effort with the city of Kotka in eastern Finland.
My main focus at the moment (and through much of the holiday) is getting the manuscript into shape. We're using the blog as a starting point for that, but revising and updating things with new content as well as making sure they work equally well on the page. I particularly enjoyed writing the introduction, which includes the epic battle between wind turbines and glider squirrels. You'll have to read the book to find out who wins.
We've also been working on a quick project with Two Points, the graphic designers who created the HDL visual identity. I'll leave the content of the project a surprise for now, but here's a small clip from one of the files they sent. It's part of a poster.

Next week Marco takes off on a trip to the US where he will be participating in the By Design event at Harvard. He'll also meet with some people at MIT and make a visit to the Cleveland Clinic, which is now testing some of the ideas developed during Stroke Pathways, a project that Marco led at Harvard (and Justin and I contributed to) which laid the groundwork for our strategic design approach here at Sitra and HDL. We're anxious to hear how it's going there.
On the theme of travels, we're going to make an effort to be out and about even more than usual in the coming months. If you're interested in having an HDL or strategic design perspective at an event near you, drop us a line. No promises, but we'll try our best to be accommodating.
Onwards!