Weeknotes
Week 081
Ahhh, That felt nice—that month-long break from weeknotes we just took. Hope you enjoyed the pictures and videos that replaced these weeknotes during the month of September. After the big event we needed the break, but now we're back at it refreshed and invigorated.
At the moment our attention is split between a couple bits of media to be produced in the near term and some decisions to be made about our long term activities. For a while it seemed as though the fall would be a quiet season, but after sitting down with Justin and Marco to review the calendar the myth of respite is once again shattered.
We've been on the horn this week with Tel Aviv inquiring about upcoming case study research, Zurich to talk about an exciting opportunity, and DC to check in on media-related issues.
This is a week of comings and goings. I'm back from my post-event holiday and Marco is leaving for some time with his family. Meanwhile, we have a more significant departure: Minna is leaving Sitra to begin a PhD program at the University of Helsinki. Thanks for everything, Minna, and good luck on your next adventure!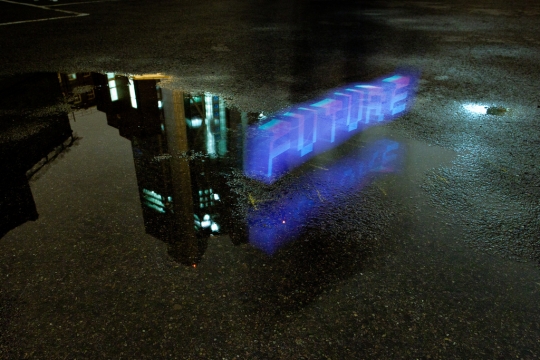 A still from Making Future Magic (linked below). Photo from BERG's Flickr
In celebration of the fact that we're actually posting this weeknote on Friday, let's close it with links to two bits of beauty. If you haven't seen them already, Steven Johnson's introduction of his upcoming book is a great four minute scribble of ideas about hunches, connectivity, where ideas come from. And there's not really a way to frame the five-minute video entitled Making Future Magic other than to say that if someone somewhere is giving us a glimpse into the future, it's most definitely the fine people at BERG.