Weeknotes
Weeks 95-96
We're back from a week (#96) in Umeå, Sweden, home to the Umeå Institute of Design, and location of a courageous experiment in Prototyping the Future. Anna Valtonen, HDL Global 2010 participant and Rector of the school, decided to shut the place down for a week to pause and consider what the future of the design school may be. All students, staff, and even Anna herself put aside their course work to participate in special workshops taught by guest faculty. Marco, Justin, and myself brought the HDL Studio model to Umeå as an example of how designers might begin to play more strategic roles, especially in service to government.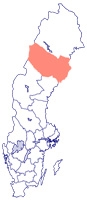 Västerbotten is about the same size as Denmark but has only 1/16th the population.
To demonstrate this concept we teamed up with the county government of Västerbotten, the second largest county in Sweden and administrative region that includes the city of Umeå. Governor Chris Heister and Deputy Governor Birgitta Heijer issued a challenge: How can we make Västerbotten more attractive so that it attracts new residents and retains existing ones?
We asked the students to develop ways to rethink traditionally difficult aspects like the far northern location of Västerbotten as assets that could be utilized to develop a new vision for the county. Governor Heister described the unofficial slogan of the county as "In Västerbotten we have it all" which the studio flipped around to be "In Västerbotten you can have it all!" This highlights the county as a place of opportunity that benefits from diverse natural environments, geographies, urban densities, and lifestyles, where it's easy and comparatively cheap to take root.
The Governor issued the challenge, Sitra brought the HDL Studio model and played the role of facilitator, and UID students did the hard work. It was a hectic week, but a good one. We certainly learned a lot about what makes a studio tick and this is invaluable knowledge as we continue to hone the HDL Studio model.

A snapshot from the final presentation
The students had a tall order ahead of them. With only five days to deliver they had to dive into new territories such as economics, public policy, and demographics; make sense of this tangled mess of perspectives; and propose a framework for developing a course of action for the county.
The presentation went well and sparked a lively discussion with the Governor and her guests. While the students are gathering up their presentation material I'll leave you with a cliff hanger, but as soon as the files materialize we'll prepare a dossier of the week. In the meantime, there are a pile of pictures up on Flickr.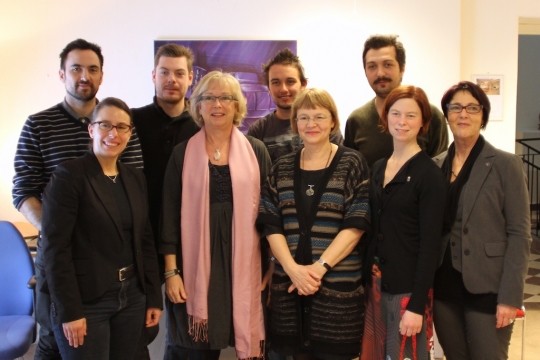 The studio with Governor Heister and her guests
Week 95 was spent in London catching up with some other HDL Global 2010 participants in between meetings related to other Sitra business. It was especially great to catch up with Indy Johar of Research 00 Architecture as well as our friends at the Young Foundation.