All posts by Kalle Freese
Elsewhere at Sitra
Sitra Coffee Lab
What follows next is a pro barista tip courtesy of Strategic Design Unit. If you want to gather people somewhere, make them stay there longer and boost their creativity - serve them really good, well brewed and freshly roasted coffee.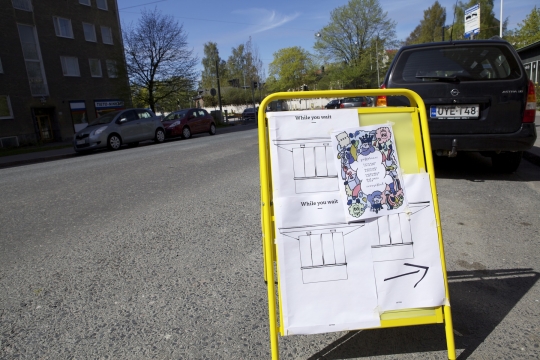 Last Saturday was the Ravintolapäivä ( "Restaurant Day" ) when anyone "can" set up a pop up restaurant, cafe or a bar just for that one great day. People reclaim the streets and fill them with cheerful chatter, buzz and food. There's a very diverse range of food available from North Korean pork buns to Lady Gaga cupcakes. The fact that this was the 5th Restaurant Day clearly show that there's demand for inexpensive, well-prepared and diverse street food. However, the day after the restaurants and cafes are gone. Cars are back, there's no food, and people have abandoned the streets again.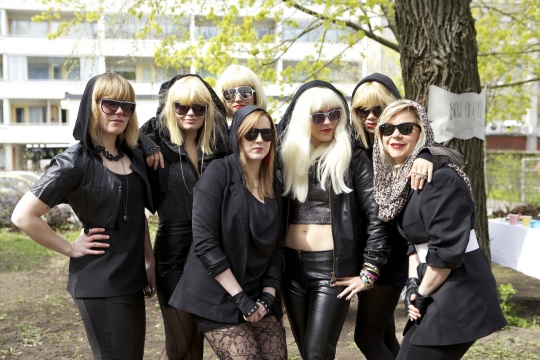 Lady Gagas running a cup cake pop up.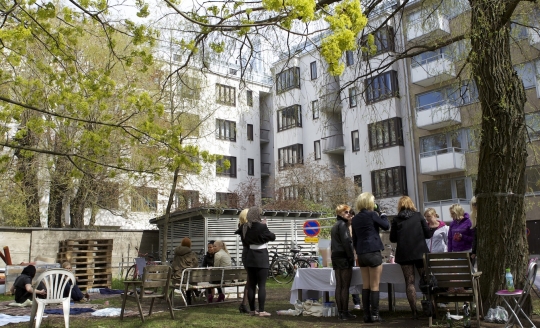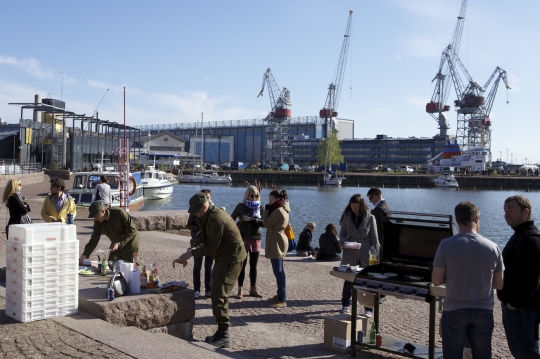 North Korean miso salmon and pork buns by the sea.
This phenomenon sparked the idea for last weekend's "Sitra Coffee Lab" if you like. Besides me serving espresso based drinks we had a hidden agenda. While the customers were waiting for the drinks we asked them to sketch what would they like to see, eat, drink, feel or listen to on the streets of Helsinki in everyday life.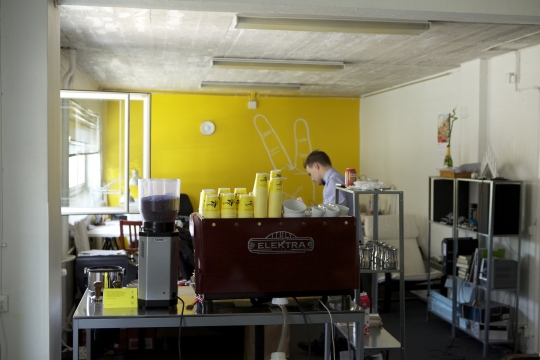 Serving coffee from the window of a co-working space on Hietalahdenkatu.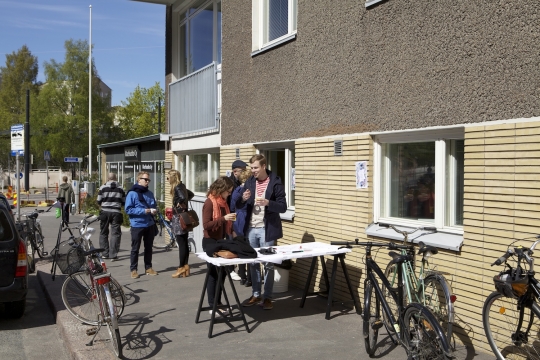 People waiting for their coffee.
As a tool for this we used iconic yellow Lippakioskis (in Finnish) (translates a "baseballcap kiosk", from the canopy) that are largely unused nowadays (many open for 3 months over summer, but only for basic fare, and remain unused at other times.) Designed in the 1930's and built during 1940's and 50's, there are now 19 kiosks standing around the city. Dan had made these blank A3's with a vector rendering of such a kiosk.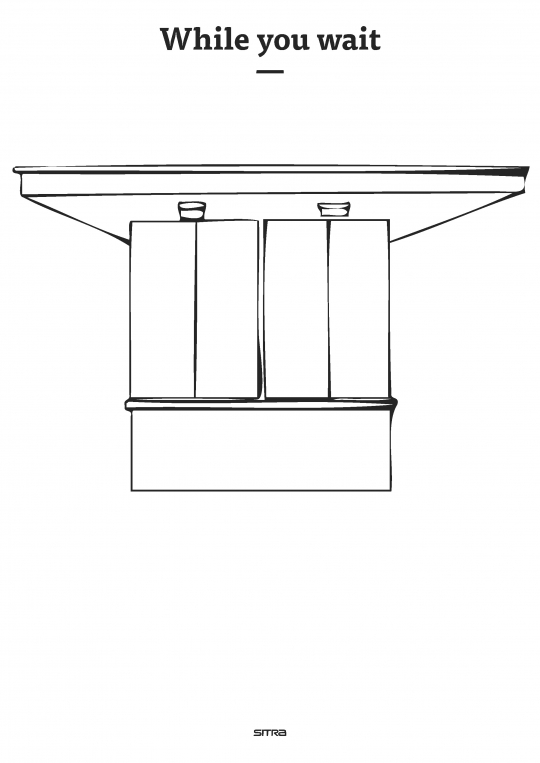 We ended up with almost 30 papers with some great ideas on them. Some people wanted to grow carrots and flowers on the roof of a kiosk, others to set up a summer lounge and use the kiosk as a DJ booth. There were a few especially noteworthy things. First, many of the papers had people socializing outside of kiosks. Could these kiosks act as community hubs for people to meet each others and socialize? The kiosks are dotted around the town mostly by the tram lines. These different districts have their own characteristics and atmosphere. How could Lippakioskis reflect those nuances of different parts of the city, just like they do in Käpylä and Kallio?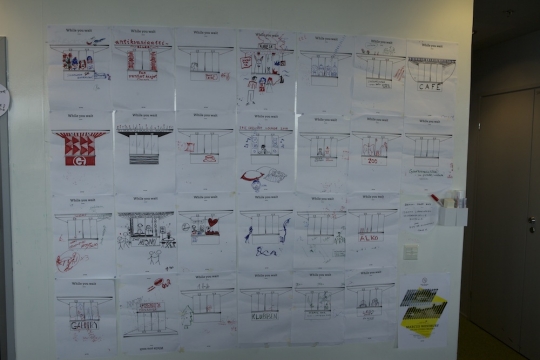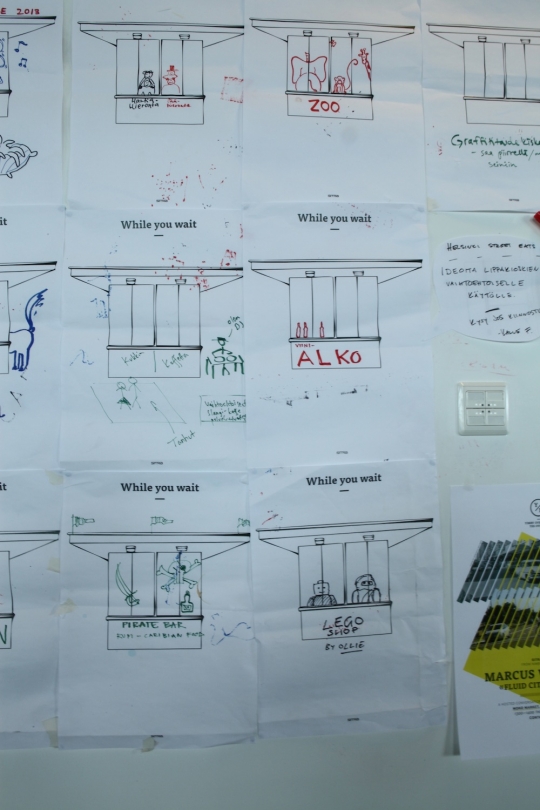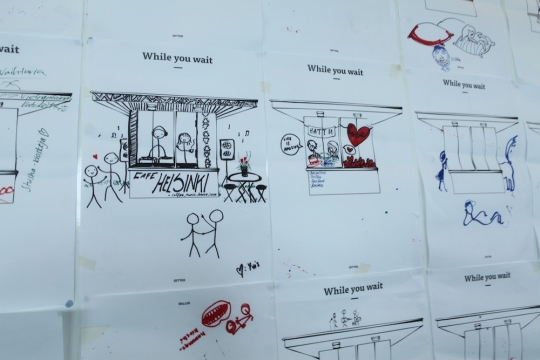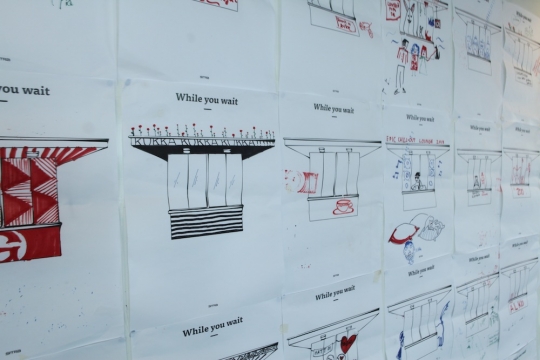 Besides the social aspect people would like to see more diverse offerings on the culinary side. Nowadays the kiosks serve, as mentioned ealier, just a basic fare - filter coffee, buns, soda and candy. Why nothing more interesting like espresso or home made doughnuts? Or why not organic local beer? What would you like to see, eat or drink in a Kioski?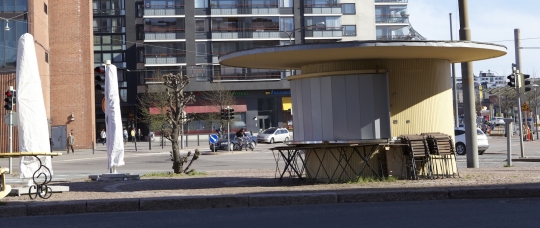 Why wasn't this one open on Ravintolapäivä?
Elsewhere at Sitra
Moikka from Kalle
As Dan already mentioned in his previous post, I just recently started here at the Strategic Design Unit as an intern. Currently I'm studying marketing at the University of Helsinki's Viikki campus. While telling people I'm a marketing student almost all of them reply "Marketing - at the Aalto University School of Economics, right?" The difference is that in Viikki we focus and specialize in understanding the marketing needs of the food industry and other players on the edible field whereas at Aalto it's purely marketing itself. I'm also doing a minor consisting of all kinds of food related subjects - a little bit of chemistry, logistics and so on.

The first weeks at Sitra has been very interesting and exciting - never before have I had a desk of my own and a view from the 14th floor, overseeing the beautiful seafront and archipelago of Helsinki and Espoo.

Being a barista, the first project I assigned to myself was to think of a better solution for the office coffee. Also, I've read at least a dozen articles and papers regarding the Helsinki Street Eats project.

Recently +Studio, a "design accelerator" and co-working space in the creative Punavuori district of Helsinki, held a breakfast session titled as the New Visions for Food. Futures specialist Ville Tikka, who also contributed to the Helsinki Street Eats book, from Wevolve agency presented his idea on how the food systems might change in the future. The linear value chain from farm to fork is likely (and already has in some cases) to transform into a network of functions interconnected to each other.

That concept will surely hover around the Street Eats project which is the one that I'll be working most with. We'll be taking a close look to street food in Helsinki and hopefully finding new ways to develop it. In addition to all things food related, I'll be helping out with Brickstarter as well as HDL 2012, as that shapes up.

During the first few weeks here at Sitra I've met so many interesting people. I'm very excited to start working with all these professionals and to really get my hands on the various projects at hand.