Weeknotes
Week 138: Mostly about food
Roll call! Johanna is mostly pitching in on Synergize Finland projects, Justin is holding down the fort in Boston, Marco is in Moscow giving a talk at Skolkovo, and Dan is somewhere in Australia running at a breakneck pace with a full slate of talks, workshops, and meetings there. For more on that, follow Dan's Twitter account or look for the mentions of @HDL2010. And this leaves me, alone in Helsinki, spending the day out and about and writing.
Between bouts of project planning and other exciting administrative duties we've been continuing to drive our research into the street food of Helsinki. Below is a snippet of that, one of four narratives that we open the booklet with. They're meant to give snapshots of different key moments in the development of Helsinki's food culture. As you might guess, we're much more interested in the stuff around the food than the victuals themselves.
Ullanlinna, 1960

The woman shifts nervously from foot to foot outside the restaurant's doorway. Above her, a green neon sign sputters into life, casting the restaurant's name in flowing script across the elegant square, although the sun seems to have no intention of disappearing anytime soon. Still, it was late, and he was late.

She dares not go into the restaurant without him. This is not simply a matter of etiquette, or timidity on her part; it's the law. In Finland, women are not allowed in restaurants unless accompanied by a man, so she waits. She finds this faintly offensive, as she's heard that the reasoning is that women in a restaurant or bar on their own could only be there for one thing, and it wasn't the food.

Dancing isn't allowed either, for similar reasons; this she finds more ridiculous than offensive. There had been some progress, however: after the Helsinki Olympics, Alko, who set such rules, had deigned to allow the introduction of something equally licentious: the bar stool.

That the new owner of the restaurant is a woman, Mrs. Paukka, is an irony also not lost on her, but it makes no difference. For all her progressive attitudes, the woman had never been to a restaurant before, just as no-one in her family had. But she'd heard about Mrs. Paukka's new menu—in particular the crispy fried Baltic herrings—and had pestered the man about going for weeks.

The sharp new kiosk across the square, owned by the restaurant and the only one in the country with an alcohol license, is full of men sitting, smoking, drinking, eating gelato, workers from banks and docks alike gathered around the small tables under the trees. She feels their eyes occasionally upon her. The woman pulls a copy of Kaunis Koti from her bag. She'd just bought the magazine from the R-Kioski on Korkeavuorenkatu, and had intended to save it for the tram ride home, but it would prove more useful as a screen to hide behind for the moment.

A skid of leather shoes on the cobbles behind her, accompanied by "Anteeksi, olen myöhässä!" …
Simultaneous to the writing, we're also doing some light data mining. I spent part of yesterday doing a bit of very light scripting to help us more easily pull data from the local restaurant website, Eat.fi. That process looks like this:


Left to right: 1) a map of open restaurants at a particular time, as provided by Eat.fi 2) the code on Eat.fi that makes this view possible 3) a small script that takes a bunch of copy/pasted HTML code and returns a count of the open restaurants 3) collecting that data by hand in Excel 4) visualizing it in Illustrator using a polar graph. Much faster than counting all of the dots on the map 24 times.
We wanted to make a simple point: at the moment when drinking activity on the typical weekend is spiking, food availability is crashing. Restaurants stop serving food and there is very little of a night time economy to speak of. So we made a diagram showing the opening hours of all 569 restaurants in central Helsinki. That's the red line of this diagram: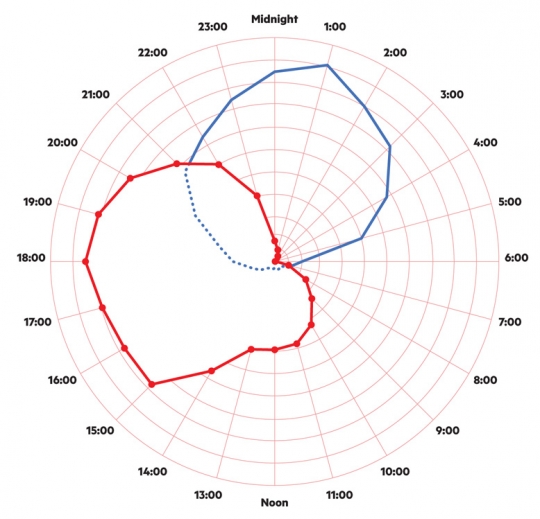 Red: # of open restaurants at each hour, as detailed in the records of Eat.fi (peaks at 422). Blue: anecdotal observation of public drunkeness (intensity & volume) on a typical Helsinki Friday
The blue line is interpretive, a sketch. It's not based on data at all. As we evolve this diagram we'll figure out a way to handle the discrepancy between these two (one based on data and one anecdotal observation) but for now it's shaping up as a way to illustrate the point. The fact that the red hoop and the blue hoop scarcely overlap is one (small) part of the reason why saturday morning the streets are dotted with puddled of vomit and why alcohol related injuries and assaults are high.
Of course this has a direct impact on the individuals whose health is impacted or who are the victims of violence or property damage. It also indirectly effects the efficacy of Helsinki's tourism strategy that seeks to make this a globally competitive destination. So here too the details matter.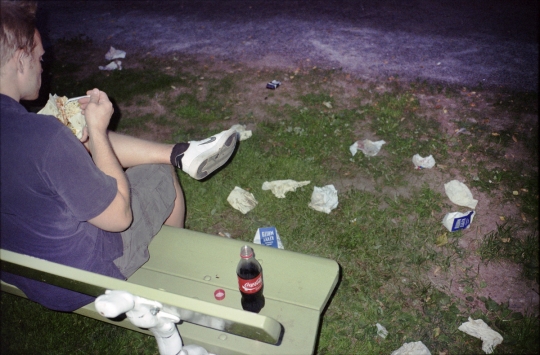 The primary offering today in Helsinki street food. Photo: Kaarle Hurtig for Sitra
As you can see, to make at point that sits at the intersection of governance, business, and culture we're starting to pull together a range of different sources as well. Mixing ephemeral narratives with the historical development of the market and its regulation from 1900 onwards; bits of data with rich imagery; interviews with close observations.

Mid afternoon coffee at Camionette
We've been moving between conversations and interviews with organizers and activitists like Olli Sirén, who has been the public face of Ravintolapäivä or Tio Tikka, who started Helsinki's only current food truck to The Public Works Department, who Dan and I visited this week.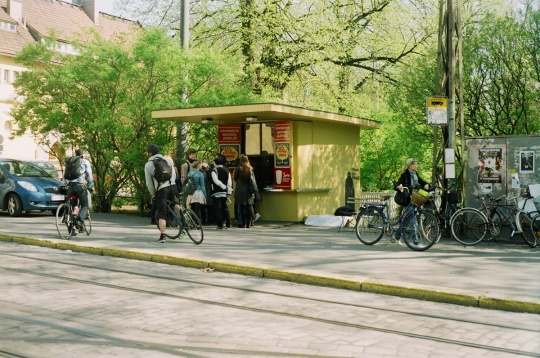 Snapshot from one of the restaurants open for the first Ravintolapäivä
In our booklet we're pulling together a bit of the history, current evidence, and indications of where there is untapped potential for innovation. Ultmately we are looking into the past before speculating about the next hundred years of everyday food in Helsinki and how we can make them even better. And in that regard we're focusing on how the dark matter, all the bits that situate food within our everyday lives—or not.
And to end, an observation about the color of milk packaging in northern Europe, provided by the ever amusing and insightful The Kaspar Stromman Design Blog.