Weeknotes
Week 97
Calendaring and planning work continue here in the strategic design corner of Sitra as we start to lock into place commitments for our various projects this year. One of our focuses is 2011 is beginning to transfer some of our findings in strategic design methods, ability, and content to our fellow teams at Sitra. This means we're spending a lot of time in the elevator buzzing from floor to floor visting people in the Energy, Landmarks, and Public Leadership programmes as well as our communications team. Doing this has spurred much self reflection as we try to articulate how we work and be more specific about what the tools are and when they are best utilized.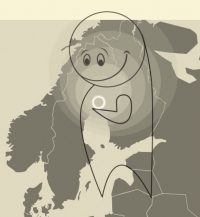 The students asked if Umeå can be the capital of the Top of Europe across the Nordic region
What seems like endless planning and prep is now beginning to gel (really!) and Marco will chime in soon with an update about strategic design's role at Sitra, but until then we're happy to direct you to the full dossier of our studio with Umeå Institute of Design that we mentioned last week. The students did a great job or having zero experience with strategic research and analysis, let alone merging that with their design background. Have a look at the Growing Västerbotten dossier.
We've also begun a number of writing projects including a couple articles for publications here and there, as well as a summary of the HDL Studios we conducted in 2010. More on this soon. Good night, week 97!