Weeknotes
Week 048
Judging by the fact that there are only thirty minutes left in week #048 and I'm just now beginning the weeknote, it was a long one.
More of everything. More visits to possible venues around Senaatintori, more people confirmed for the HDL Studios, more work on the Challenge Briefings that belong to those studios, more people on the team. Welcome, Sanna!
With all of this comes a different "more:" waiting. We have inquiries out on a few key bits of our September plans and the wait is near excruciating. Luckily there's plenty of work to distract us while we wait.
Adriel and Ezra spent the weekend working with Justin on the Challenge Briefings. Those are set to be 100% complete drafts in two weeks, so everyone is feeling the pressure to not only cross the tees and dot the eyes, but also make sure the structure and positioning are just right and that the information is accurate and complete. On Wednesday we experienced a first for HDL: Justin, Marco, and I held a three continent conference call to talk through some of the remaning high level questions for the briefings.
My week was split between Helsinki and Bangalore. It started in India with filmmaker Helen Han and designer/entrepreneur Poonam Bir Kasturi. Poonam is the founder of a project called The Daily Dump which offers a grass roots approach to waste management and reduction in the form of composting. Poonam and her team have been recognized by everyone from INDEX to TED, so it's no surprise that her work is inspiring. What we find particularly interesting is her approach to the systemic challenge of waste management. It's a huge, messy problem with no magic bullet. Poonam's response is an enterprise which is designed from the start to be inclusive and diffuse.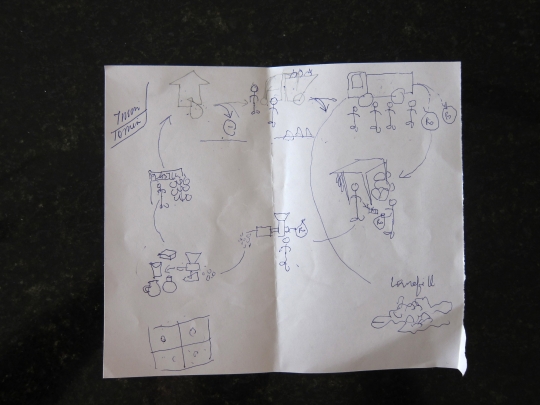 Poonam's sketch of the recycling cycle in Bangalore.
The Daily Dump is a manifold approach involving both products and services, supported by a culture of knowledge that casually informs people about the implications of their lifestyle choices. This is furthered by educational materials and curricula developed for use in elementary schools so that kids can learn about these issues more directly. From a business point of view, one unique property of the Daily Dump is that it's open source. The ideas are published for anyone to copy or adapt in their own area.
With twelve established clones, including one in her own neighborhood of Bangalore, this strategy is beginning to pay dividends as the collective body of knowledge about composting and the tools that enable it grow with each new clone context. The sum total is an ambitious, frenetic project that keeps Poonam and her team very busy. During my short few days in their offices the conversation was constantly switching between languages and subjects. I was a happy fly on the wall as Poonam discussed pricing strategies with some of her clones while simultaneously switching in an out of a design critique of their new website.
Helen will be there for two months as an embedded designer, both helping the Daily Dump articulate the narrative of their work as well as making a short film about the recycling networks within the city of Bangalore. This is a new area of exploration for Poonam and her team and we're thrilled to have an inside look at how the work develops. Helen's film will debut at HDL 2010 and we'll post it here shortly afterwards!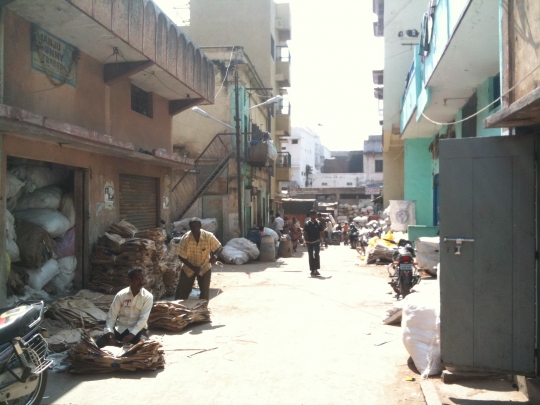 From a visit to Bangalore's City Market, the recycling network's major node.