Field Reports
Co-Design on the Ground in Singapore
Today Marco and I zipped around Singapore under the able guidance of Cecilia Chua of The Idea Factory (thanks, Cecilia!). In three separate cases we met with people who are working to bring the process of design to deep problems in three different contexts: national policy, patient care, and primary education.
How many countries have a government office for design? We visited Dr. Milton Tan who runs the DesignSingapore Council to learn more about the sorts of initiatives they are working on at the Ministry of Information, Communication, and The Arts and to get a glimpse into how design is promoted inside Singapore. The popular industrial design congress, ICSID, will be held in Singapore this year and DesignSingapore Council has some interesting ideas already cooking.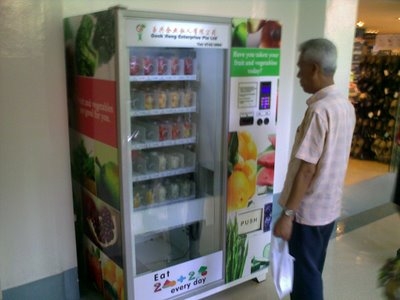 Fruit vending machine in the halls of Alexandra Hospital
From top down to bottom up, we left Design Singapore and headed directly to Alexandra Hospital where CEO Liak Teng Lit is radically re-thinking hospitalness. A serious convert to The Toyota Way, Liak is committed to considering every tiny detail of the hospital as a patient experience. In the course of our brief time with him, Liak was refering to botany, hotel design, airplane seats, call centers, and more... all as models of thinking about his problems in the hospital. His tweaking of the hospital ranges from wayfinding that makes it easier for families to identify who is caring to their loved ones, to new pricing models for the cafeteria that encourages healthier eating (vegetables: $.20; meat: $1). What's more, Liak is a numbers guy so he's backing up these micro innovations with statistics that underscore their impact.
Cecilia really planned a busy day for us, so after leaving the hospital we stopped briefly at Pasir Ris Primary School where the students were working with their teachers on a "co-design" exercise. Essentially, this was a sort of curated crowd-sourcing where the students were asked to generate ideas around a given topic while the teachers acted as facilitators. This is not such an unfamiliar story, but this particular school has a track record of producing new ideas and even products in house and successfully exporting them to other schools in Singapore. Twelve year old students conceptualizing, writing, and illustrating books that are now in active use at other schools? Sounds like a success story to me.
Tomorrow: Hong Kong!