Field Reports
From Hope To Change
Is political protest a relic of the 20th century? In a way, this is the question that The Hope Institute asks here in Seoul. As a non-profit that runs a number of different advocacy and education programs, the Hope Institute proposes that "social invention" can replace protest as an effective tool for improving the quality of daily life. Over the past two years they've collected more than 16,000 ideas and are actively prototyping some of them.
In some of their most interesting work the Hope Institute uses crowdsourcing to collect ideas that can improve various aspects of living in Korea, from tweaks to the Metro system to alternate farming practices. After collecting advice from the people on the ground, Hope Institute brings together various stakeholders (be they government, business, or other communities) to join in one conversation about the problem at hand and then prototypes solutions and publishes their findings.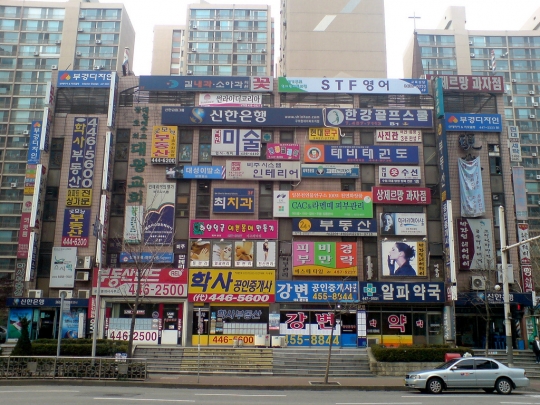 Photo from Arne Hendriks on Flickr.
One ambitious project they're working on is to change the visual experience of Korea's busy streets. With little regulation applying to the way that signs and advertisements are applied to building facades, the streets can quickly become a cacophony of sales pitches. Hope Institute's "Sign is Design" program hosts the municipal offices in charge of signage, the sign owners, and the sign designers in a single conversation so that all parties can work together to find a more orderly and pleasing way to deal with signage. Recently they adopted one of the rundown streets in Busan's old city center and applied their process to redo the all of the signs. If this were all for the sake of a more beautiful street we could note its improvement briefly, but post-renovation shop owners have noted that foot traffic and sales are both up. This increase in business is the direct outcome of good design being applied to a problem at all levels, from the strategy of bringing together all the stakeholders down to the graphic design of the individual signs.
If you speak Korean you may enjoy watching this presentation by Hong Ilpyo from LIFT ASIA '08, Research Fellow at the Hope Institute, where he talks about more of Hope Institute's work. The Q&A is in English and starts about 15 minutes in.