Weeknotes
Week 062
Hearing from each of the studio members as they made their way home last week, it sounds like it was an exhausting and exhilarating time for everyone. It has been more than a week since the HDL Studio on Education ended and personally I'm just now getting back to the normal routines of life.


Friday. A group discussion after the studio presented its findings and recommendations
Last time we checked in on the Education studio they were in the throes of developing a synthesized position on the education challenge. That work continued through the morning and afternoon on Friday and then we ended the day with a discussion between the studio, a number of people from Sitra, Timo Lankinen of the Finnish National Board of Education, and Maruja Gutierrez-Diaz of the European Commission. It was great to have such a high powered conversation in a group small enough that we could really dig into issues, a discussion that continued over dinner in the studio with the work of the week pinned up on the walls around us.
The question is: what next? One of the difficulties of the work of HDL and Sitra more broadly is that we're in the business of creating opportunities. Sometimes this means helping two organizations or individuals meet and discuss areas of possible collaboration; sometimes this means helping foster new business ventures, as Sitra's venture capital operation is well versed in; sometimes it means introducing new ideas into Finland, like the ways that Low2No has contributed to the discussion about sustainability; and sometimes it means creating space for reconsidering challenges from a new point of view.
So back to that question of what's next. From here we will continue the conversation with Timo and his colleagues, as well as our partners at the Ministry of Education, and other groups which are keen to learn more about the outcomes of the studio. In short, we're going to follow the opportunities as they arise—and we'll try to nudge a few along too.
Of course we have a couple ideas of what's next, but if we gave away all of our plans where would the fun be in that?
Besides feeling like a pack of exhausted zombies, this week was spent ramping up our next studio on sustainability while ramping down the studio on education. Ramping down involves transcribing the whiteboards, photographing everything, and reviewing the tapes of the final conversation. Ramping up involves continued work tracking down answers to questions that the studio members have sent in advance, so that they can hit the ground running.
And what else? It's spring, so we got some new flowers!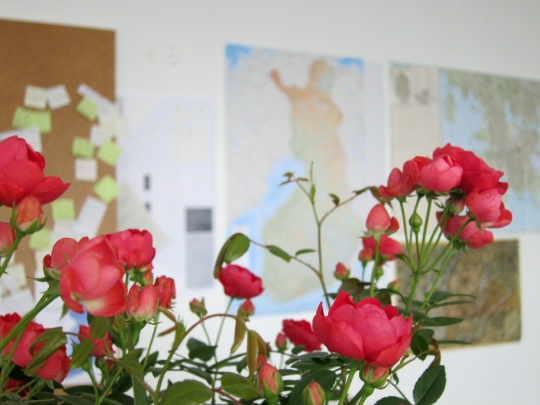 Actually, OK Do brought us the flowers. Thanks!