Weeknotes
Weeks 98-99
Here in the strategic design corner of Sitra we continue to noodle on a collection of related topics that have been stewing since last fall.
The topics in play during thse last weeks have now bubbled up at different times during the evolution of HDL. We're in the middle of fleshing out the documentation of the HDL Studio in an attempt to describe it as a model that may be useful to others. There's also an increasingly apparent lack of a strong strategic design literature, or even a single regular publication that covers strategic design. Our case studies are not enough! And as always, the difficulties that offices experience in building a practice around strategic design still persist, even in a design market as developed as Finland.
These categories loosely map to the triad of knowledge (available approaches), capability (available business models), and achievement (success stories) that we identified as key targets when we crafted the first HDL mission statement one year ago. Our activities in 2010 were weighted towards developing and testing the studio model, so we have some activity on development of useful knowledge. We also dedicated a lot of time and effort into getting out to meet people and see who is acting in this space and learn what their experiences have been.
Now in 2011 we're tilting a bit towards fostering capabilities, both internally within Sitra as well as within Finland more broadly, and thinking about ways to share and communicate the achievements of the entire strategic design community.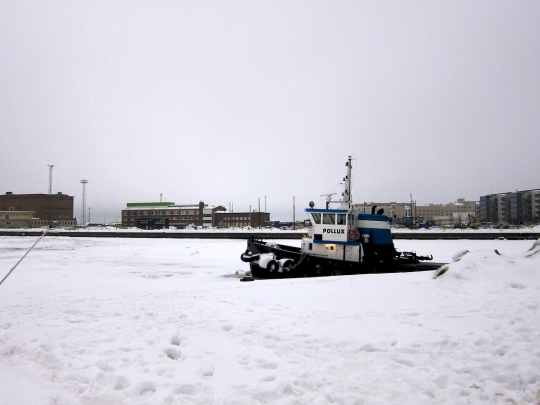 A view across the water to Jätkäsaari. 2011-2012 will see big changes here.
Elsewhere in strategic design at Sitra, the Low2No team held a day-long seminar 'opening the books' on the development of Sitra's block in Jätkäsaari. Not a lot of questions were asked after each presentation, but there was lively chatter during the coffee breaks. That's when people ask the tough questions anyways, so we were happy. Design work continues on that project with an impressive international collaboration spanning between Finland, the UK, Germany, Italy, the US, and Australia.
Meanwhile, Justin and I are taking a moment to focus on architecture. Thanks to the kind invitation from a respected journal of architecture in the US, we're taking a stab at applying the precepts of strategic design to the practice of architecture. With reflections from the Low2No process and our other work, combined with our individual backgrounds in architecture, it's a gratifying challenge to develop a meaningful criticism of architecture as it is typically practiced while using what we've learned about the possibility of a strategic design role to point at future possibilities. What do new models of architecture practice look like in that area?
Kevin Slavin's talk at Lift '11 brings up the question of new models of practice through a brilliant exploration of the role of algorithms in contemporary life, and especially in financial markets. Slavin discusses the role of genetic algorithms in contemporary computation and highlights the critical difference that these algorithms have self-learning capabilities which allow them to "write things [that] we can't read anymore." The 'Flash Crash' of the New York Stock Exchange last May is a very palpable example of how much impact these un-readable writings can have.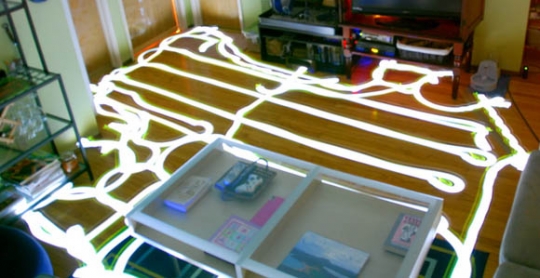 A long-exposure photograph showing the human-recognizable path used by a Neato Robotics XV-11 to clean a room (Photo: Gearfuse)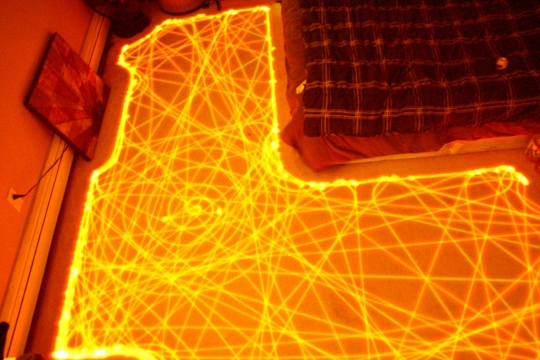 The cleaning path of a Roomba (Photo: Signaltheorist)
Kevin illustrates this in another way by showing two exmaples of pathways used by floor-cleaning robots. One follows a familiar logic of cleaning around the edges while the other appears random and chaotic to human eyes, yet it's intensely calculated and intentional. As we are increasingly forced to confront the wicked nature of some problems before us, I'm expecting that we will find ourselves developing solutions that look more like the Roomba and less like the Neato. In other words, when designing for the unpredictable, we should not be surprised to arrive at the unexpected.