Weeknotes
Weeks 201-202
We've been taking care of infrastructure lately. Still some work to be done there, but not a ton. This means: being on the horn to convince people to help us with publications and other wrap-up related efforts; writing contracts to hire them; organizing bits of the office; catching up on email so that we're free from that nagging feeling of being behind.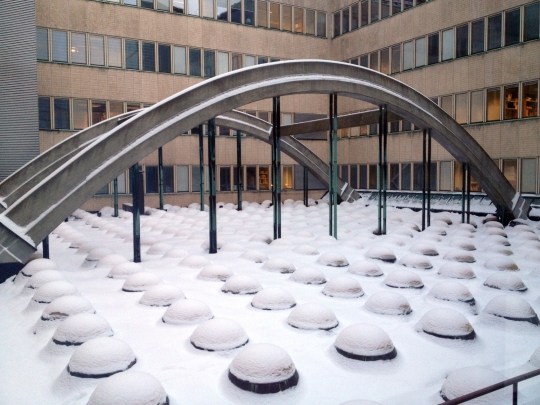 Winter!
The Design Exchange Programme is hitting its stride. Sara is finishing up her year-long placement in the city of Lahti where she was helping them redesign their approach to public engagement. As Sara is also having a baby (congratulations!) she will not be continuing and we're sad to see her go. Nevertheless, her story has been blogged here (mostly in Finnish) and will remain for reference. Thanks for being our first very courageous embedded designer, Sara!
Sirpa at the Ministry of Employment and Economy and Hella at the Ministry of the Environment have also been blogging actively, including short summaries in English.
We ended last week by hosting a breakfast with members of the city, Tekes, and other organizations around town to talk about the possibility of taking Open Kitchen forwards. If this works, we'll have been able to play exactly the role that Sitra is best at: develop a new concept, test it out, and pass onwards bettered by iterated findings.
I've enjoyed following along the developments of some of our participants as they take steps now towards opening their own ventures. You can follow Jerome as he mounts a sourdough bread revolution in Helsinki. If you're lucky, you'll get a chance to try his products; the bread wowed us all during Open Kitchen.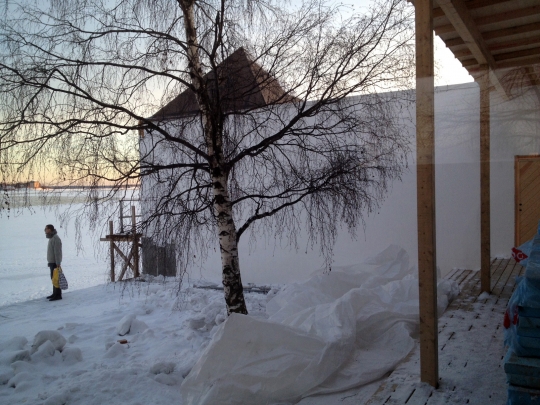 Snapshot from a visit to the Kulttuurisauna which is nearing completion.
Rory is waiting on me for final updates to the Brickstarter manuscript as I coordinate with Kali and Dan to get things just right. Meanwhile Rory is working with Bitcaves to take the manuscript forward into a book. This also serves as a reminder that I will soon need to think about revamping the Brickstarter website as we transition the active prototyping there to a project called AvoinKotka (Open Kotka).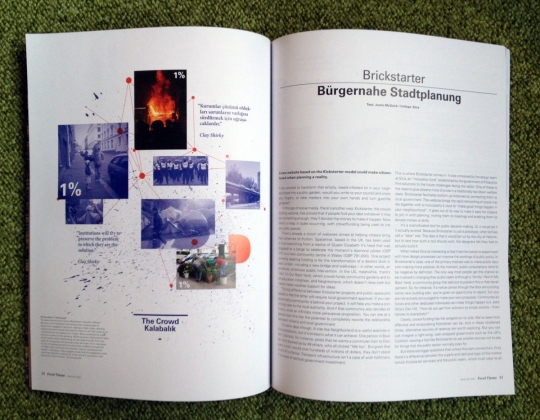 We were very happy to see Brickstarter included in a recent issue of the magazine form, The Making of Design, with an essay by Justin McGuirk. There's also now an online video of a talk I gave at the World Design Forum in Eindhoven last autumn which discusses Brickstarter and our other projects:
Not so sure about the graphics of this video. Those are not my slides!
This week Marco is back in the office after a busy trip to the US. He and Justin were visiting the Cleveland Clinic to see an implementation the work we put together during Stroke Pathways, a research project at Harvard that served as a proving ground for our current strategic design approach. Sounds like it was an enlightening trip but I haven't had a chance to catch up with either of them for more than a minute. That's because as Marco returns I'm packing up. Tomorrow I move to New York and will be based there from February onwards as we wrap up HDL. A big change, for sure, but since we've been traveling more or less constantly for the past four years it's not going to affect our collaboration much. Though it does mean I will be waking up for some very early phone calls.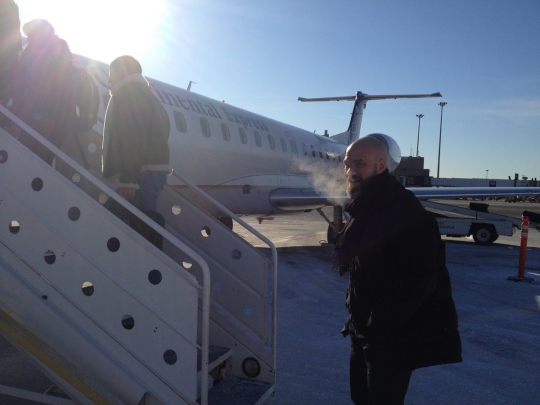 On the way to Cleveland.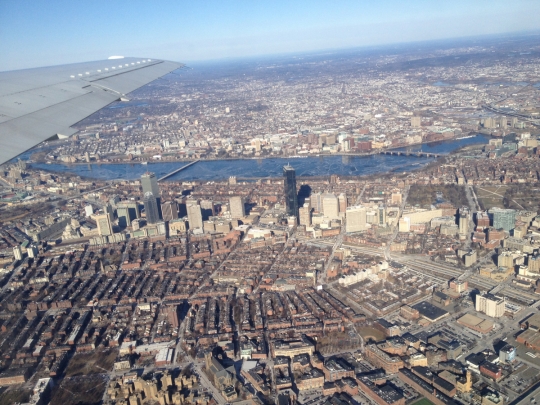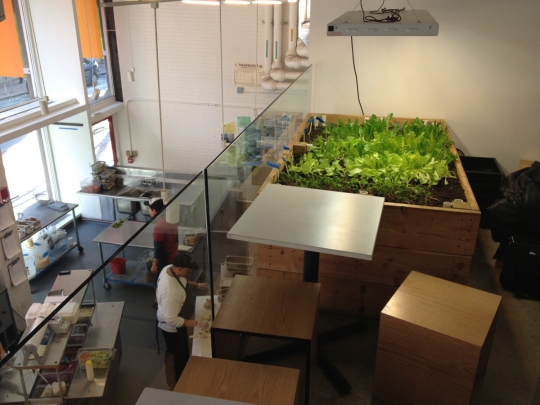 Justin and Marco visit the salad garden at Clover food lab.
While in the States Marco also had some meetings at MIT and then gave a talk at HarvardxDesign conference, which Justin and I have been advising and helping to get off the ground. Great stuff there and I swear the color similarities are just a coincidence!
We're still working through the responses to our HDL road show announcement, which means there's time for you to throw your name in the hat if you would like us to come give a talk.