Competencies
Helsinki Street Eats (and hacking Lulu)
This post is part Low2No project update and part design how-to delving into simple customization of the Print On Demand books as a format. First, the update. Low2No is about creating pathways for our current, high carbon economy and culture to transition to a neutral carbon footprint. An important aspect of that is what and how we eat.
Especially for a place with the northern climate and high meat & dairy consumption habits of Finland, food production and consumption are key concerns when you're interested in carbon.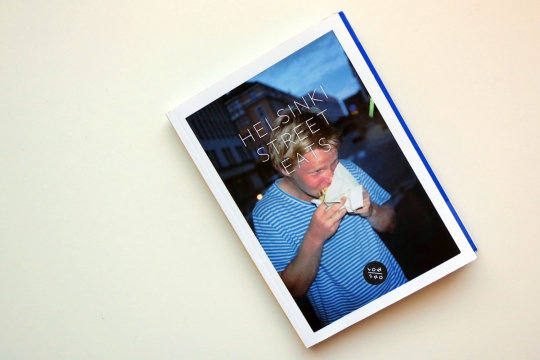 Helsinki Street Eats, a new book about street food as a vehicle for innovation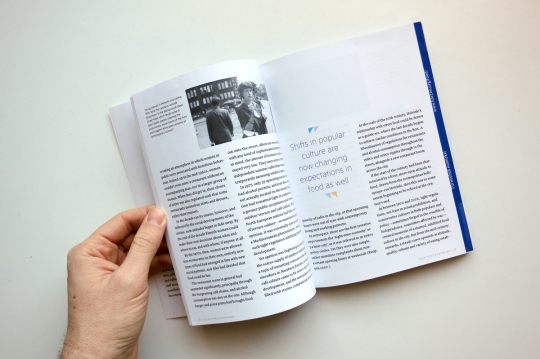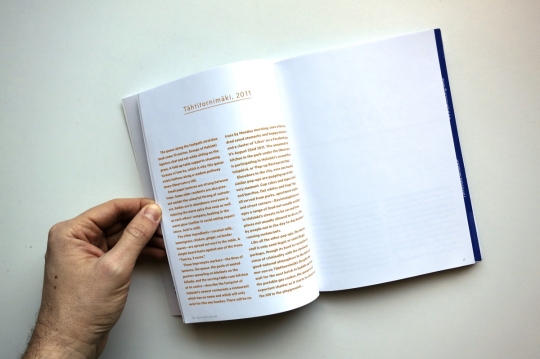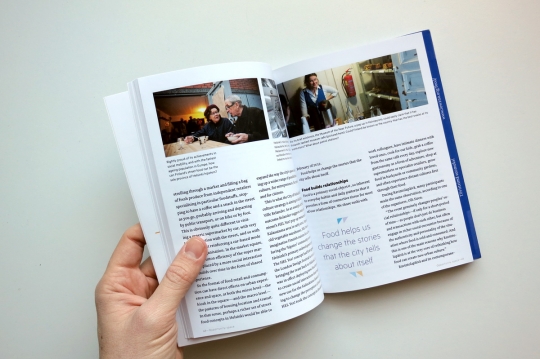 We've been looking at street eats as an example of "everyday food", the stuff that's close at hand such as late night snacks, kiosks, bakeries, food trucks, and the like. In fact, let's take a slightly modified excerpt from the Low2No site:
Street food describes systems of everyday life. In its sheer everydayness we discover attitudes to public space, cultural diversity, health, regulation and governance, our habits and rituals, logistics and waste, and more. What we find most interesting is the intersection of all of these aspects: how they come to a balance and tenor that enables and encourages specific kind of outcomes in a specific place and time.

Street food can be an integral part of our public life, our civic spaces, our streets, our neighbourhoods. Street food can help us articulate our own culture, as well as enriching it by absorbing diverse influences. And it can enable innovation at an accelerated pace by offering a lower-risk environment for experimentation.

Street food can do all of these things, but it doesn't necessarily.

This book is an attempt to unpack what's working and what isn't in Helsinki, and sketch out some trajectories as to where it could go next.
The full 98 page book is available for download, and you will also find links on that page to buy a printed copy from Lulu.com, a print-on-demand publishing service.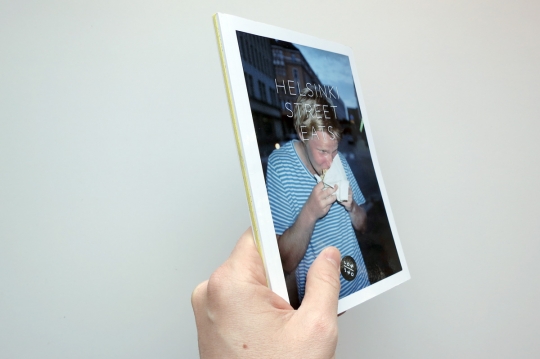 Readers of this blog may already know that we're a bit obsessed with formats. We are given to nerding out on the minutiae of publishing online and in print, which is probably no surprise since as a team we have direct experience in producing magazines, newspapers, books, radio, websites, buildings, and various other media. (Aside: this makes us an unusual public sector team, to say the least.)
It's nice to go all-in on a book and obsess over every tiny detail from writing to printing, as we did the In Studio: Recipes for Systemic Change. With this most recent publication on Street Food we were interested in exploring a format that would be more ephemeral. One that could change and evolve as our work on the topic does; a paper document that could have different version numbers; and one that felt easier and more casual. We also wanted to self-service distribution model.
Print-on-demand seemed to fit the bill, offering flexibility along most of those axes, but print-on-demand books tend to be… dull. The easiness of the format shines through. How could a print-on-demand book be a bit more special—could we find some relish to serve it up with?
People have been hacking print-on-demand to do some interesting stuff, but it seems to be all on the software side. We wanted to hack the print in print-on-demand. Lulu hacking.
Surprisingly, there still does not seem to be an option that surpasses Lulu. I say surprisingly because the Lulu experience is quite terrible. Their tools are limited and the workflow is awkward. As one small example, you can set the country of publication only after you've published a book. According to Lulu all published books apparently come from the United States, at least at first. Blurb is another popular print-on-demand service and their quality is higher, but their document sizes are limited and it's mostly for photo books.
Over the past months Dan and I sketched lots of (sometimes ridiculous) ideas, including at one point the thought of laser cutting Lulu books into new shapes. Stepping back from that precipice, we've settled on a basic combination: a full-color 98 page print-on-demand book paired with an offset print fold-out poster, all bound together with a rubber band.
The books come straight from Lulu and the rubber bands can be found at any office supply shop and countless online sources so that only leaves the poster for us to source through a traditional print house.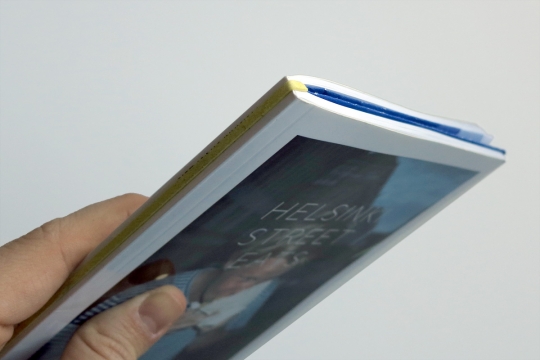 Usually the spine of a print-on-demand book is a sore point because the alignment can be unpredictable. The rubber band nicely obscures alignment errors.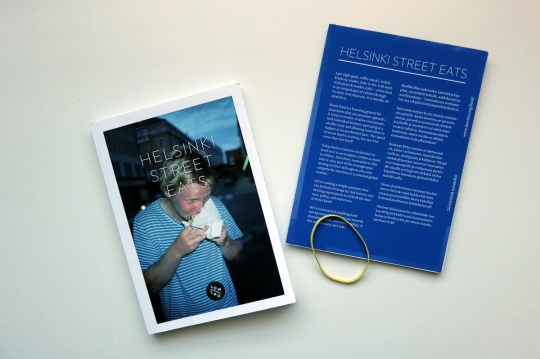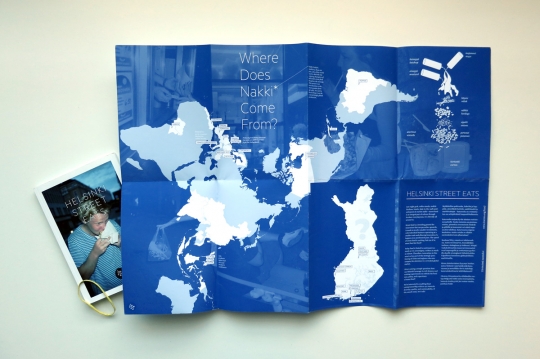 The poster is designed to fold down into A5 format so that it fits neatly within the book. Right now we're waiting for the actual posters to come back from the print house, but they will be printed on 60gsm paper which means they're a good 25% thinner than standard printer paper, making them easier to fold up.

Various paper prototypes using the office printer and tape to craft posters and an old Lulu book as a stand-in.
The binding pushes the poster out a few millimeters which creates a natural 'tab'. We discovered this on accident while making a prototype, but it was a nice discovery since we wanted to have a quick way to thumb to the Finnish language summary.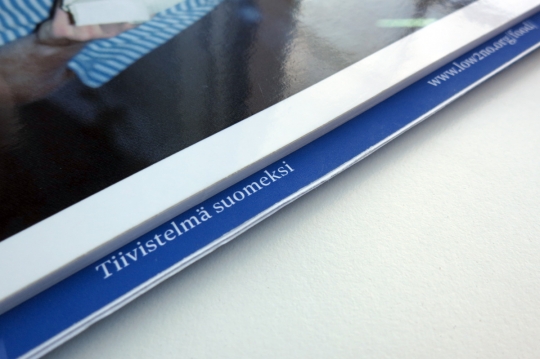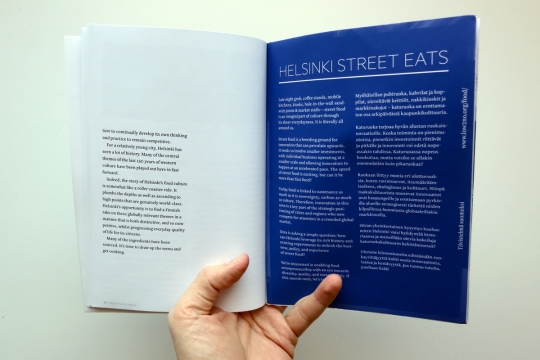 When we give out copies of the book they'll come with the poster and rubber band, but if you order a copy online or download the PDF you'll find the contents of the poster included as normal pages.
Because print-on-demand does not have any setup costs or minimum print runs, we can also offer the same book in multiple flavors. As we started working on the cover it was hard to settle on a single image, so we decided to let the user decide. There are four copies of the book available for download/print. All of the contents are the same, but you get to pick your own cover. My favorite features a scene of Kauppatori from 1901. What's yours?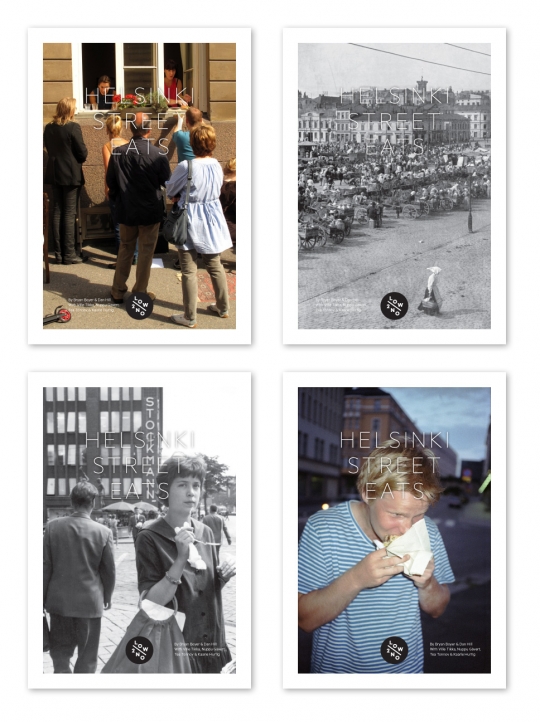 Clockwise from top left: Ravintolapäivä August 21, 2011; 'The Great Saturday Market' at Kauppatori in 1901; Jaskan Grilli in August, 2011; Outside Stockmann in 1959.
Although the writing and research for this project has been on slow burn for about nine months now, the production of the book was pretty quick. Dan and I did all of the work in house, tossing files back and forth with occasional but insightful comments from Marco and Justin. One of the positive side effects of taking longer than expected to deliver this project was the opportunity to shoot extra photos around town, so it's richly illustrated.
The larger team included Ville and Nuppu of WeVolve on interviews and research; an investigation into the supply chain and geography of a typical hodari (hotdog) by Aalto University student Tea Tonnov; photography by the indefatigable Kaarle Hurtig; and tips and ciritique from too many people to mention.
Hope you enjoy! Hyvää ruokaa!