Weeknotes
Week 156
That pile of snow from last week? Still there. And not only that, it's snowing as I type, so the thing is growing.
Dan remarked the other day that during this time of year it feels like everyone is booting up new projects. Could the surge be detected in the number of domain name registrations? We've booked one this week, with another to come once we settle on a name for it. Buying a domain name is a good inflection point. It means the project has solidified enough to be developed in public.
They come and they go. The domain name for a quick project from a couple years ago will be expiring soon, so we've moved it to this website for posterity. The permanent home for our Clues to Open Helsinki is now in the HDL dossiers. The grunt work of moving the project from one website to another was a nice opportunity to revisit the work and be reminded of the extent to which many of our current interests were there in nascent form. Food? Check. Community decision making? Yup. Design exchange? Sure enough!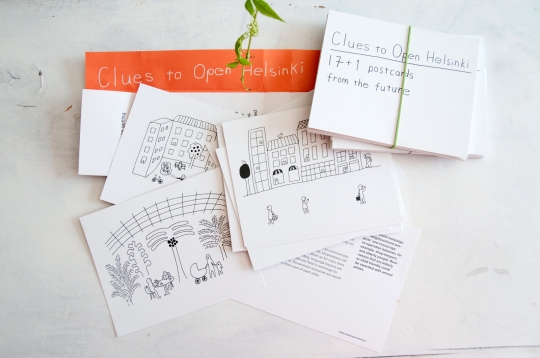 Photo: Hertta Kiiski
During the last couple months we have been slowly building up two projects about food and community decision making, and this week they took the leap from more or less fuzzy interest areas to specific proposals. We forced ourselves to sit down and draft a one page description for each project.
Despite the awkward term—and please let us know if you have something better—we like one pagers around here because they are a simple way to bring a level of rigor in one's thinking: big ideas, small page. Here's how we do it.
Working simultaneously in Google Docs or huddled around a Word document on a laptop, we take turns drafting sentences, phrases, and fragments. At an early stage the one pager is mostly about why and what, and the who, how, and when to be covered by a cursory sentence. Or left out for the moment.
It's hard to resist the urge to drop the document into InDesign and start fiddling with layouts and font sizes to make room for more words on the page, but point of writing the one pager is to work within rigid boundaries and take advantage of the fact that the format forces you to make tough decisions. To really test yourself, try using a bullet list or two. If you're as allergic to corporate speak as I am, this will be a true test of your mettle.
But bullet points were invented for a reason: done right, they should be distilled versions of your main points. In our case, it's also part of writing to our audience. The kind of people who we need to read our one pagers tend to be used to, even expect to see, bullet points in the documents that glide across their desk. Dan calls this method designing, which is a tactic that all of us on the team practice innately.
By the end of HDL Global 2010 we had drafted something like 39 different versions of the one page description that went out to everyone from invitees to press people. Those all grew out of a single document, so the process left us with a family tree of explanation.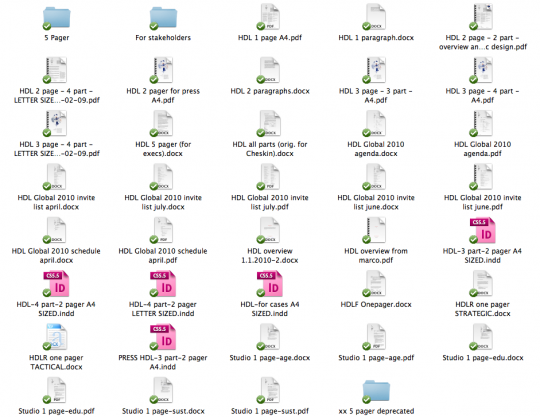 With luck, the two single page documents that we drafted this week will grow similar trees as they develop. Here's the first couple paragraphs of the current draft of our document for 'Brickstarter', a project about community decision making:
Brickstarter is a 21st century social service. It enables everyday people, using everyday technology and culture, to articulate and progress sustainable ideas about their community. Brickstarter is a platform to turn possibilities into proposals into projects.

The interface between citizens and institutions can be slow, awkward and cumbersome. For years, this was just the way things were. Yet the tools and media that people now use to orchestrate their everyday lives rapidly outstrip those used by most municipalities, ministries, and other institutions.

Brickstarter takes advantage of social media and mobile apps in order to address this disconnect, by developing a more articulate, more responsive, and more representative platform for citizens and institutions to work together.
What's missing here is an articulation of how Brickstarter connects community matters to dark matter but, you see, that's in a bullet list further down the page.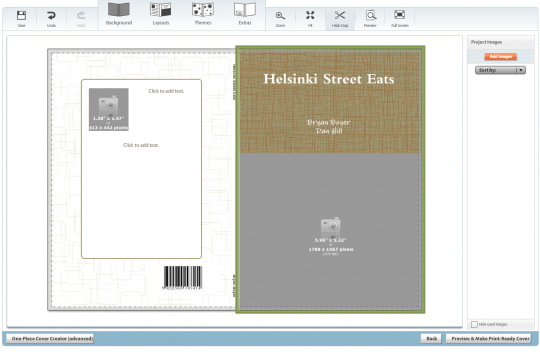 Never trust a website to design your book cover
Yes, the food booklet is still coming. In fact, that should be available for download by tomorrow. The Print on Demand Service tried to design a cover for us, but we've decided to go a different direction.
The good part of friday was spent in Kalasatama in a workshop about food entrepreurship. The session culminated in three, at at times four, people around a laptop drafting the one page description of the project that we spent the day sketching out. It's trending in the right direction and now we need to work quickly to ensure that we can meet an ambitious timeline.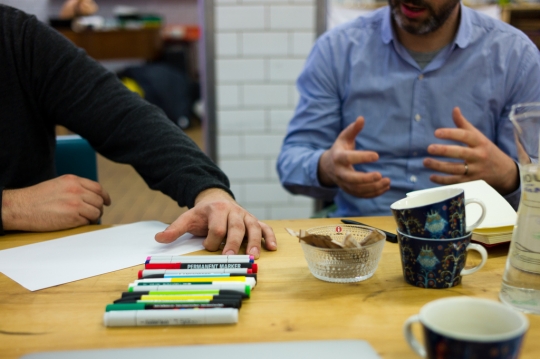 Sitra has been active on food topics for a while now, most recently by supporting the development of the wholesale market with an eye towards local and organic products. That was work on the 'platform', and our upcoming efforts will be building an 'application' to take advantage of that platform.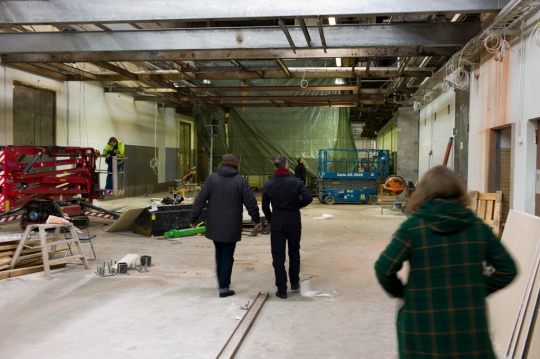 The centerpiece of the wholesale market is Kellohalli, an old butchery facility that is named for the clock on its facade. In a few months this space will be cleaned up and open to the public.
To close, an interview with Jonathan Ive in the London Evening Standard. He describes himself as "interested in being wrong." I think I like those words more than the things he and his team produce. The interview is full of good stuff, including this:
We struggle with the right words to describe the design process at Apple, but it is very much about designing and prototyping and making. When you separate those, I think the final result suffers. If something is going to be better, it is new, and if it's new you are confronting problems and challenges you don't have references for. To solve and address those requires a remarkable focus. There's a sense of being inquisitive and optimistic, and you don't see those in combination very often.