Weeknotes
Weeks 220-221
With the trip behind us and the book to press, our focus is entirely on HDL 2013, which kicks off in T-Minus 12 days.
This means our life is a series of checklists, one of Marco's favorite activities.
Catering? Got it, delicious.
And they have enough tables? Yup.
High powered projector? Check.
Speakers briefed? Done.
Wayfinding? Working on that one.
etc…
We have been using Eventbrite to manage registrations for this event and I highly recommend the service if you have not used it before. It just works—and in the process of just working it casts off all sorts of useful data.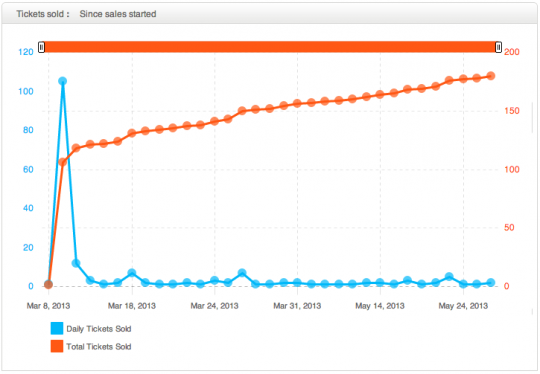 The blue spike you see at the beginning there is the first day that tickets were available and we mailed an announcement out to people who had signed up for the launch announcement.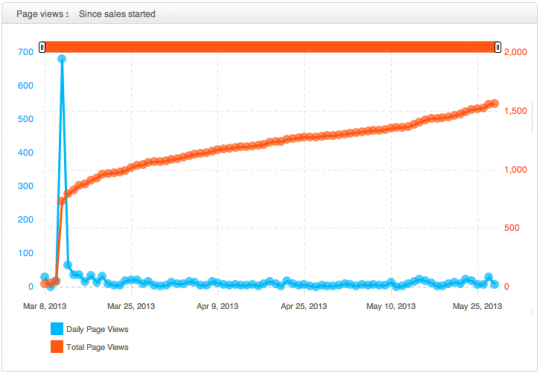 Our conversion rate is about 1/9, meaning that out of every 9 times the event page is viewed someone signs up for the event.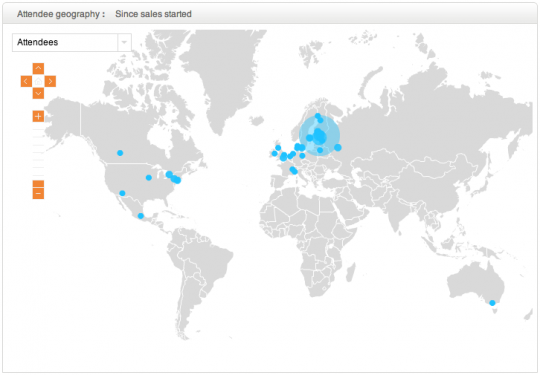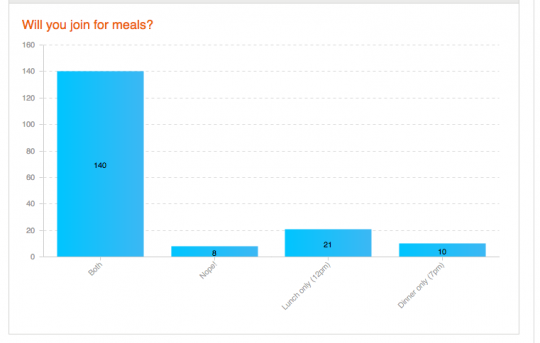 Makes the catered happy. Important.
Data has been on my mind a lot lately. As Justin and I traveled from place to place, the question that kept coming up was, "how do you measure your impact?" We can point to specific successes, such as the number of large-scale timber frame buildings (4) that have taken advantage of the changes to the fire codes that our Low2No project helped unlock. We could (but have not had the resources) to do a business case analysis of the new life that timber construction could breathe into the Finnish wood industry. We could (but have not had the resources) to assess the economic impact of a more fluid food entrepreneurship sector.
What is the economic value currently unrealized because of the quirks of the food service real estate market in Helsinki? These are questions that can be answered on a reasonable timeline with the right skill and time. But when we are talking about systemic changes (like adjusting the emphasis in school curriculums, or even deploying new models for schooling altogether) are we prepared to wait a generation or more for results that allow us to assess outcomes? And will the results come in a form we're prepared to recognize? And while measuring outcomes is one useful activity, it is not the same as learning from activity and refining future activity.
What strikes me is the cost of measuring social and ecological impacts compared to the cost of measuring economic outcomes. We've had more than 150 years of practice (or more) at measuring (and building tools to help us measure) financial results. We'll be lucky if a fluency in measuring other forms of value can be effectively booted up in half that time—not that we should be so patient.
Tech startups offer a useful, yet frustrating, analogy. By virtue of their venture funding, many startups temporarily exist outside the realm of direct market feedback. That is, their founders worry about having a business model and the possibility of making money in the future, but they do not have to worry about finances on a daily basis the way a butcher shop or a plumber might. Venture capital turns income into an externality—for a little while. Yet in the absence of direct feedback from the market, tech startups are still able to make educated decisions based on data: usage data.
By virtue of operating websites and apps via centralized servers, vast amounts of usage data come for free in the form of server logs. The cost of measuring performance is built into the cost of operating an online service.
For instance, I can tell you with a quick glance at the Google Analytics for this website that we've had 4615 visitors in the past 30 days and that 1.72% of them arrived while searching the internet for "Marco Steinberg". The sheer wealth of data available to me, as someone who runs a website, is overwhelming, and this is using free tools available to any site owner. Those who operate their own apps and have their own engineering teams have the ability to further build custom reporting and analytics tools that zoom in on the details they care about most.
Friend-of-HDL Cassie Robinson wrote recently about using data to steward systems. Data, she writes, helps us re-route our actions when needed. And I do agree, but much of what we do is still beyond the reach of useful data. The real challenge is the high cost of measuring non-financial value. How do we make accounting for social and ecological impact cheaper, faster, easier? How can we achieve the same efficiencies enjoyed by services that run on servers for those impacts that only happen in classrooms, on the street, or in a forest for instance? The internet of things is beginning to provide more diverse ways to measure environmental performance by dropping the cost of sensors and making them smaller than ever before. Can we also find ways to lower the cost of measuring human experience, behavior, perhaps even mood? Can we drop the cost and pain of measuring outcomes as a key part of supporting social innovation?
Proving your value is always the obligation of an upstart, but asking social startups to prove their value and invent a way to cost-effectively measure their value at the same time is a tall ask. If you know of anyone who's taking this on as a challenge please drop a note in the comments. We would like to hear more about it.
In other news, Brickstarter was in the Economist last week (week of May 18th issue) and that book is almost done. No, really.