HDL Global
Welcome to HDL Global 2010
As we've just finished the third and final day of HDL Global 2010, I thought it would be nice to share the welcome letter that set the course for the last three days of conversation since it also defines the underpinnings of our work at HDL.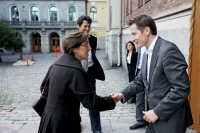 Welcoming participants on day one of HDL Global. Photo: Pekka Mustonen
We find ourselves at a critical crossroads. Large scale challenges such as climate change, healthcare, and ageing demographics—just to mention a few—are eroding the foundation on which our societies have been built. While the world is thriving with knowledge, innovations, and good will, there is little positive sum progress at this scale, on these fronts.
Our fundamental problem is that we are organized for an 18th century world, facing 21st century problems. Our academies of learning, our governmental structures, and our professions are siloed by boundaries that do not match the needs of the world we live in.
So what is unique about today's challenges? They fall at the intersection of what we know; they have multiple owners; they are riddled with legacy issues; they are of a scale that transcends normal innovation challenges; and they are continually evolving. While traditional models of innovation and design have focused on optimizing individual parts, we have not been able to transition our capabilities to address the "architecture of the problem." Big picture dynamics will govern our future, this is where we need to work urgently.
It's where there's a new role for design to help shape strategic decisions, beyond its traditional role giving form to products.
But why are we meeting in Finland? It's simple: as Finland goes, so goes the world. When it comes to 21st century challenges, Finland has the right scale and ecosystem to be an innovation engine. Where competiveness in the past might have been defined by terms of scale and economic might, today being small and well integrated is a new competitive advantage. But we can't limit ourselves to our national boundaries. Rather, we need to leverage all of the great pockets of innovation around the globe to think of Finland as a platform for innovation at a systemic level.
The other asset we bring is Sitra, The Finnish Innovation Fund, an independent fund that reports to parliament. While governments face tremendous redesign challenges, there is no commercial consultancy model for this work. There is no line item within government agencies for redesign, nor is there generally a readymade "client." To be truly effective, design is not something that can happen to government, it must happen within government through the creation of educated clients and new collaborative approaches. Sitra's financial and political independence enables it to help de-risk this development.
By joining us we hope you become part of a growing community that believes in the ability to develop new approaches to today's systemic challenges. To collectively redesign our future is something that can only happen with the help of people like yourself. Together we are building a global community that is united by this common mission.