All posts tagged HDL2012
HDL Global
HDL Global 2012 in photos
To supplement what Dan wrote about the proceedings of HDL Global 2012, I wanted to share some of the photos from the event as well. Thanks to Johannes Romppanen for all of these!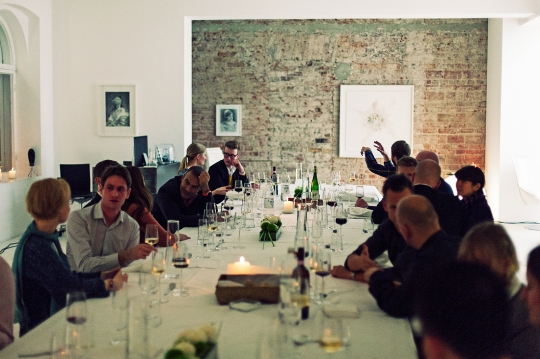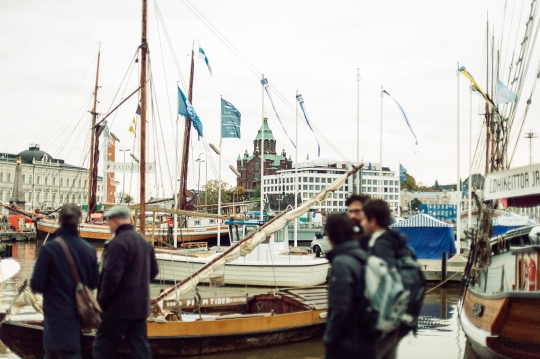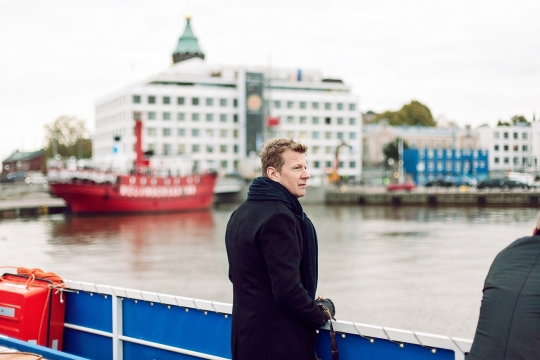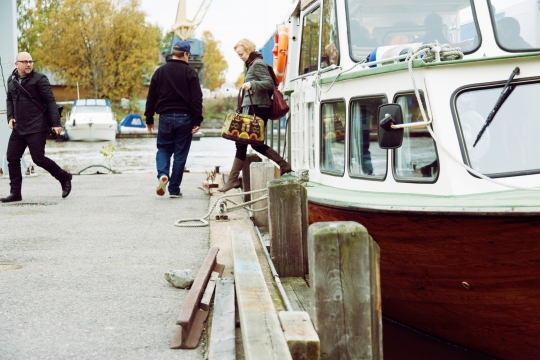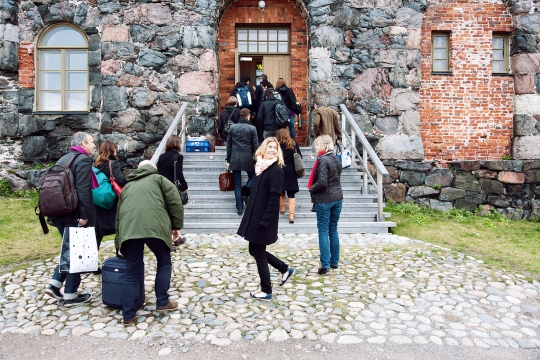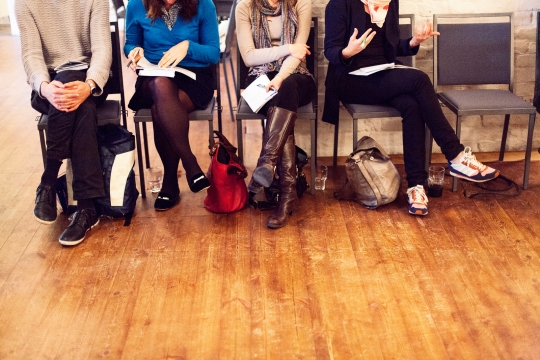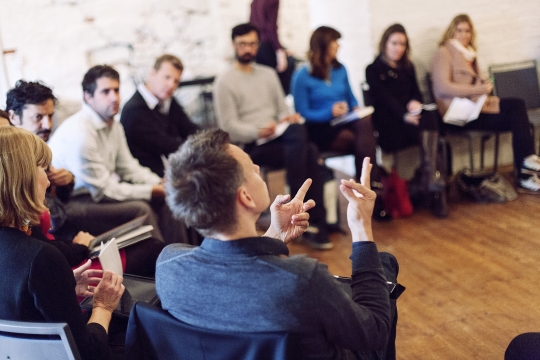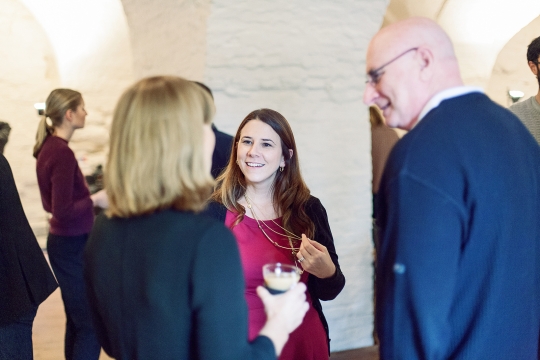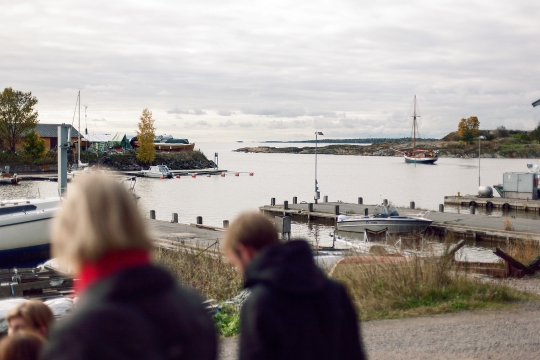 And more on Flickr.
We're now working on the cases from HDL 2012 to get them into a format that can be shared more widely. No promises on the timeline for that, but perhaps early-mid next year.
Weeknotes
Week 186
Last week we hosted Helsinki Design Lab Global 2012. The event was almost a year in the making, and you would've seen it referred to obliquely a couple of times here. We'll post a fuller update shortly, including our ideas about how we will distil and make legible (our favourite word) the conversations and connections.
We use Helsinki Design Lab—this site, social media, publications, events—as our communications platform around strategic design, capturing and conveying the essence of our projects, of other interesting projects out there, or building a network of like-minded folk doing similar work elsewhere, all in an attempt to breathe life into this practice, or culture.
Sometimes this emerges as fully-formed recipe books, sometimes as meetings which are somewhere between therapy and benchmarking. It's our tentative contention that there is a shared culture developing—around getting things done, in a "shared value" public context—and so we work hard to spot useful, transferable examples of such a culture, and bring together the people responsible so they can swap notes and find the time to reflect.
In this mode, our role is hosting, and then we have the privilege of listening, occasionally nudging, before going on to try to distil and document the salient points. More on that later.
But some quick hits for now:
Over the summer, we pulled together representatives of six groups doing interesting work, organised them into three productive pairings in New York, London and Copenhagen. Then we talked, for a day and a bit, about stewardship in and around their projects. It was incredibly interesting, and formed the foundation for last week's conversation.
The six projects were:
Brownsville Partnership, NYC, by Community Solutions, which we paired with the approach to rebuilding Constitución, Chile, after the 2010 earthquake, by Elemental/Tironi Asociados;
The Branchekode project by Mindlab within the Danish government was paired with the GOV.UK project by Government Digital Service at the UK government;
And Nesta's Creative Councils project in the UK was paired with a project by IDEO for the US federal government.
Bryan, Justin, Marco and I then distilled the results of those "mini-summits" into six summary case studies, pulled out some key maneouvres or strategies to form a kind of emerging lexicon (a little like the vocabulary I sketched out a while back) and topped it with a short intro that Bryan and I wrote about this "craft", for want of a better word.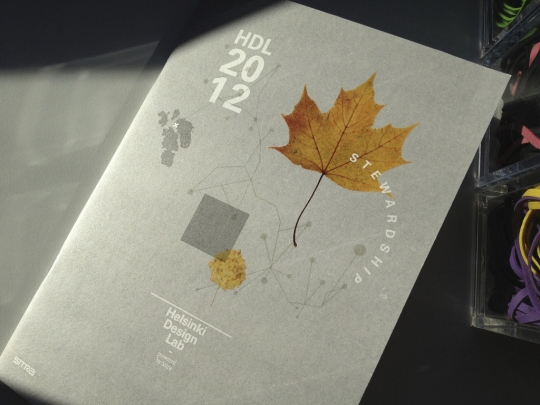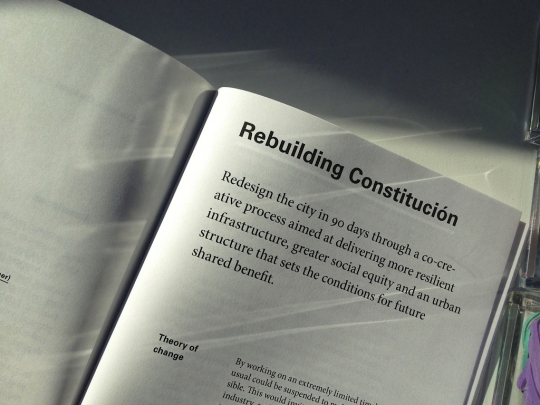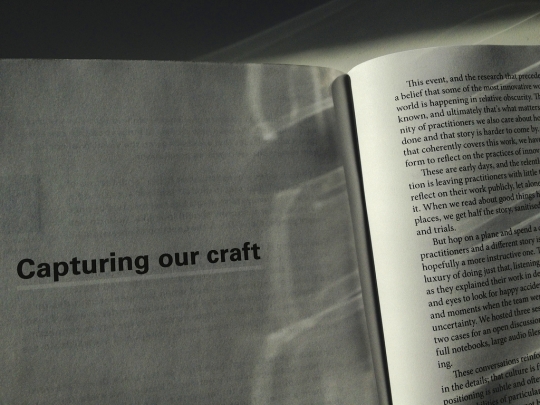 Last week, representatives from those six groups joined us in Helsinki, along with a few other invited guests, to review the cases as we'd described them, and spend a day in shared conversation digging deeper on the topics that emerged.
The wider group included representatives from Bengler (Norway), Cisco/LSE (UK), Community Solutions (USA), Elemental (Chile), Evergreen (Canada), City of Helsinki's social services department, IDEO (USA), Innovation Unit (UK), Mindlab (Denmark), Ministry of Trade and The Economy, Finnish national government, Nesta (UK), Sitra (Finland), Social Science Research Centre Berlin, and Tironi Asociados (Chile). (Government Digital Service couldn't make it as they were launching the gov.uk site, which is fair enough.)
Again, part of this is just bringing a network together. This kind of work is somewhat solitary—there simply aren't that many doing it yet, and although most people who know of it, or hear about it, can quickly see the potential within it, it's still a marginal affair, all told. Important projects; just not enough people doing them. So again with the therapy and empathy-building. But beyond that, we were after what is unique, or just plain useful and productive, about this culture? (And what is not?)
And in terms of that question, HDL Global 2012 had a particular slant. Where HDL Global 2010 had been a larger event, drawing out the network for perhaps the first time, this was a more focused affair. And where 2010 had followed the studios, and focused on the rapid prototyping of vision that was documented in the book "In Studio", HDL Global 2012 focused more on the next step—stewardship. As in, having located a vision, and strategy, just how do you make things happen?
So, this Autumn, an event in Helsinki.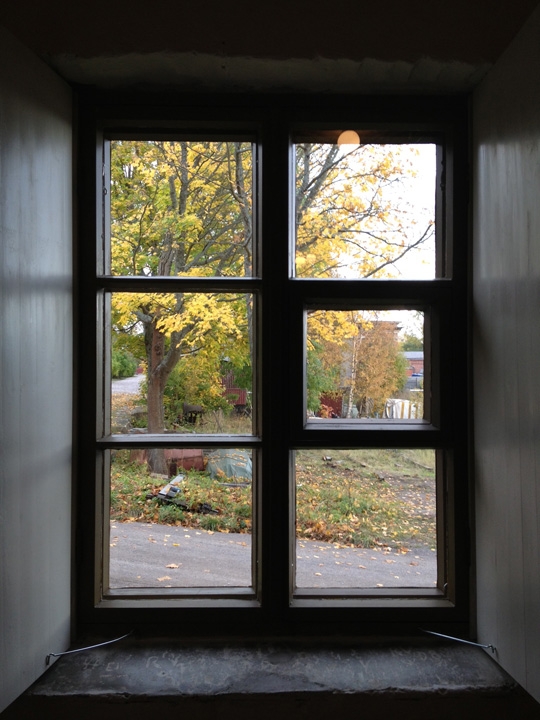 Here is Autumn.
Some details. We sent a small book containing the cases, and background, to the teams as they arrived, the afternoon before the event in most cases. We met for dinner that night. We like to start with a dinner, as it enables people to introduce themselves in a more social setting, and gently begin approaching the subject at-hand at a leisurely pace. You can then hit the ground running the following day. This is partly about getting the messy introductions out of the way, more carefully building relationships without the need for absurd "icebreaker" moments at the start of the event.
And partly because we just like to have dinner.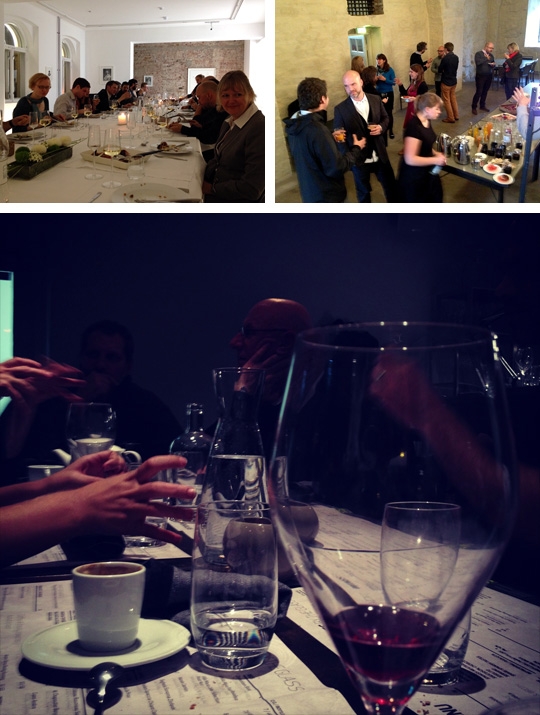 Food as a platform for discussion: before, during and after.
The following morning, we meet at Helsinki's famous Kauppatori (the market square at South Harbour) and take a boat ride to Suomenlinna, the old island sea-fortress that used to guard the city.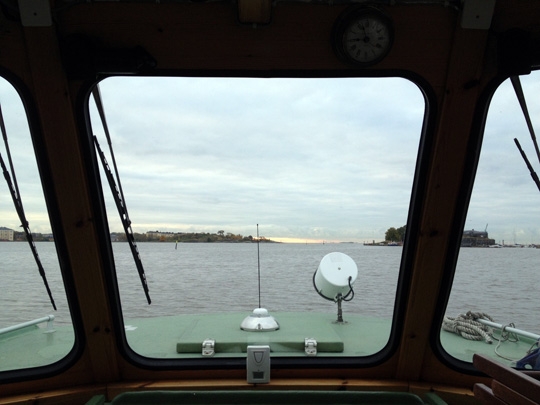 The 20-minute ride to Suomenlinna
Suomenlinna, needless to say, one of Helsinki's great assets and luckily the Autumn weather was just brisk enough to wake everyone up without chilling them to the bone. A delicate balance, round these parts. Our venue was an old warehouse—possibly an ammunition store, looking at how the deep windows were angled—which was an evocative space, and Bryan, Justin, Kalle and Maija did a great job in terms of ensuring the space and the catering were top-notch.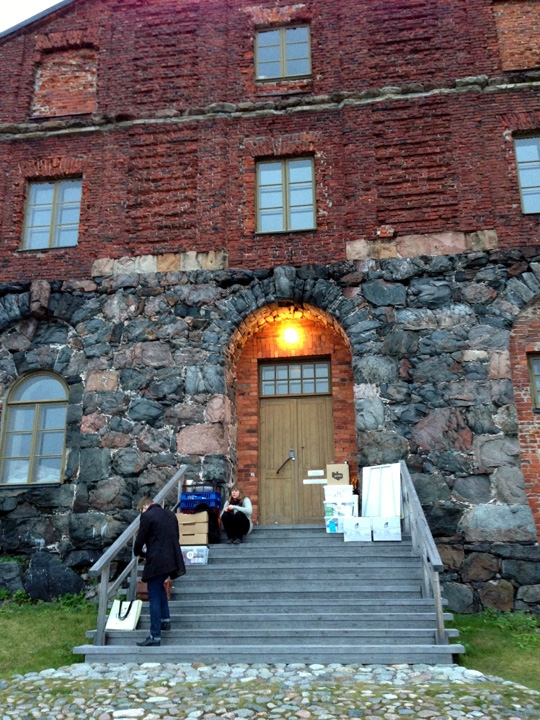 Setting up the venue before the guests arrive.
Our format was simple. Marco started the conversation with a scene-setting talk; Bryan, Justin and I then introduced the cases, and asked for clarifying comments from the participants, as well as reflections on where their projects have gone subsequently.
Then, with breaks, lunch and a walk, we had a group conversation.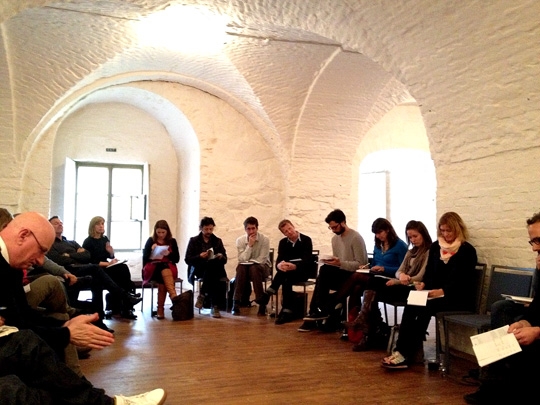 Before kick-off.
It occurs to us that we're very comfortable with the open-ended conversation. Those that know us well might say "overly comfortable". That may be the case, but I've had my fill of the alternative: overly-planned, clumsily-facilitated and tricksy workshop formats that leave little room for sudden inspiration or careful reflection, and head inexorably towards whiteboards covered in scribbles captured only in diligently Dropbox-bound photos, or their equivalent, flipchart sheets full of bullet-pointed lists that no-one owns, destined to remain rolled up under the facilitator's desk forever. Whereas the open conversation can be held over the course of a few hours, expanding to a group session in the room or contracting into smaller groups over lunch or coffee, and—given the nascent properties of the subject matter—provide ample room for the genuinely exploratory exchanges required.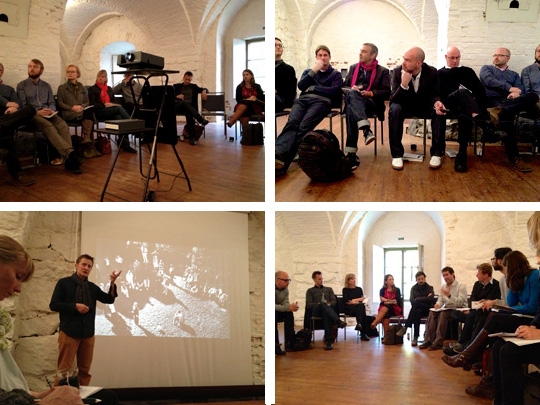 HDL2012, in session.
You might spot Marco operating a slide projector in the photos. This was one of our many subtle (and not so subtle) habit-breaking gestures. It's a basic thought, and perhaps hardly necessary with this particular group, but with the public sector, we often need to derive different outcomes from the same organisations. Given this, one thing we need to do is destabilise the everyday habits of organisational cultures, to shake peoples' defaults, remove the subsconscious inhibitors of change without destroying culture completely. And if a core theme of all of our work is around developing an "institutional sense of empathy", then we need to heighten awareness of the qualities of things, not simply the easily measurable quantitative aspects that bureaucracy all too readily gravitates towards. In practice, this means assessing the symbolic messages contained in active choices about formats, food, location, rhythms, spaces, and so on. It's why we choose a disused warehouse on an island rather than a conference centre or hotel; it's why we had dinner the night before at Helsinki Contemporary Gallery rather than a restaurant; it's why we pay particular attention to our printed matter; and it's why Marco was operating a slide projector.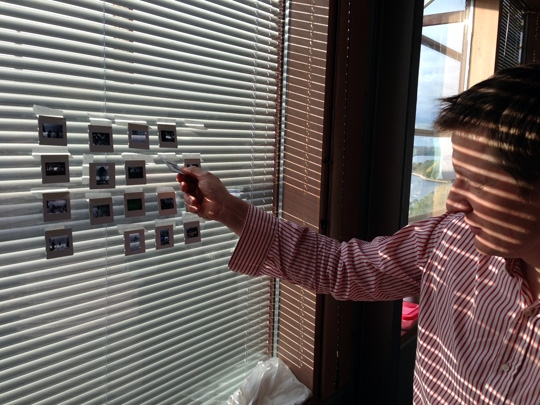 Marco selects his slides before the event.
For most in the HDL2012 group, this was hardly necessary, as they spend most of their days delivering real change in richly messy public contexts, after all. Either way, the conversation flowed readily. Reflecting on it a few days later, it is somewhat extraordinary that we can find very similar approaches to stewardship in projects as diverse as the emergency reconstruction of a Chilean city demolished by earthquake and the redesign of a government web service. But we did, and in the space between all the projects we could see strong connective tissue being constructed across and within the group.
As the light began to draw in, a boat turned up at our dock at Suomenlinna, and it was back to the mainland for dinner, and then flights home.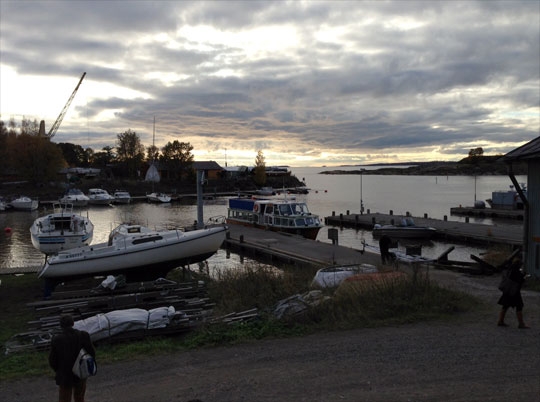 The last few heading for the boat home.
So that was HDL2012. We have "proper" photos to follow, but more importantly, a sense of where our distillation and documentation might go next. For now, our notebooks, and heads, are full, and while we reflect on the key messages while they're relatively fresh, we would like to extend our immense thanks to all the participants in both the summer sessions and last week's event.
(In other news, applications for our Open Kitchen project closed this week and, having had a quick glance over Kalle's shoulder as they've come in, we're pleased with a good set of diverse applicants. More to follow there too. Ditto Brickstarter and Design Exchange.)
Weeknotes
Week 178
Signing out of my hotel in London today I made the mistake of putting the date down as September. Not yet, Bryan. Not yet. But this calendar mishap does reveal my state of mind. As our projects become more concrete new details emerge. New things to be taken care of, things to be considered, and somethings things to be deliberately ignored. But anyways, a lot to keep track of.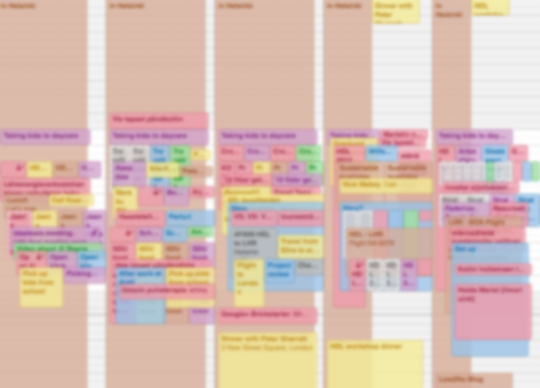 Team calendars are an indication of what our life is like right now
Maija and Kalle have been buzzing around making movies. Maija and another Kalle were shooting a pitch so that we have some plausible content in place when we release the Brickstarter mockups as clickable pages (soon!). Kalle spent an afternoon with Antto Melasniemi in Tukkutori filming the call for applicants video for Open Kitchen. They're both now heads-down editing.
(Aside: we've been watching lots of pitch videos on Kickstarter and elsewhere to learn what makes them effective. This is one of the gems we came across:Informative, unique, and hits exactly the right tone for their audience, one suspects)
Open Kitchen is seeing a smörgåsbord of activity, suitably. We're (still) wrapping up contracts, commissioning work on the brand and logo, booking ad space for the fall, and finalizing the application process so we can open that at the start of September. Elina and Antto have a good feel for most of these, and collaborating with them on the project continues to be a joy.
Although we like to do things in the open, and this project even has "open" in the name, it's kind of nice that there is not much of a public presence for the project just yet. Beyond the book we have not released many details which means we're not having to answer lots of questions. In September we will publish the call and this will change, but we'll be ready.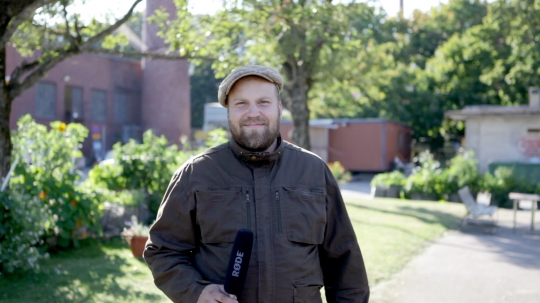 Antto presenting like a champ
Brickstarter, on the other hand, has been getting tons of attention. This is all immensely positive, of course, and we've been happy to see interest from across Europe, North America, and elsewhere. Marco, Justin, Dan, and I spent an afternoon out of the office sketching scenarios A through D for Brickstarter (more like A through X).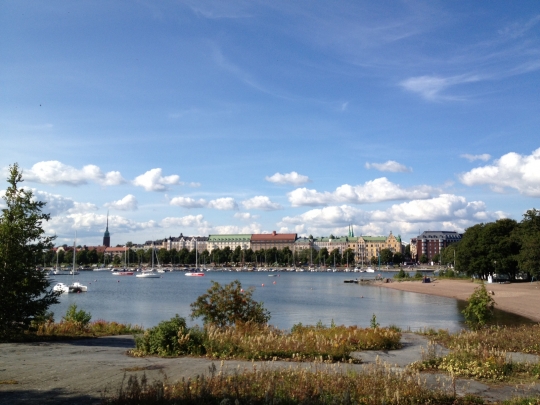 Helsinki doing what it does in summer
As we decide next steps we're balancing scenarios based on our understanding of the needs of citizens and municipal governments, Sitra's abilities, and what sort of interest we can attract from partners and collaborators. Do we build Brickstarter as a running service? If so, who will operate it long term? Do we build half of it and ensure a good handoff to another team? Maybe, but who will that team be? These questions have been part of our dialog since the start but we're approaching a decision point, thus scenarios A through D.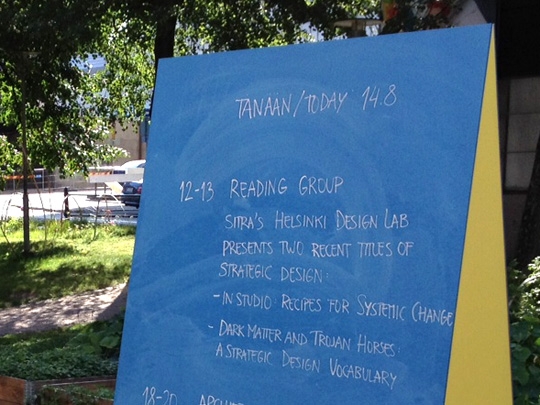 In the middle of the week Dan and I did a book reading at the Paviljonki. Sure is going to be sad to see it close up for good in September.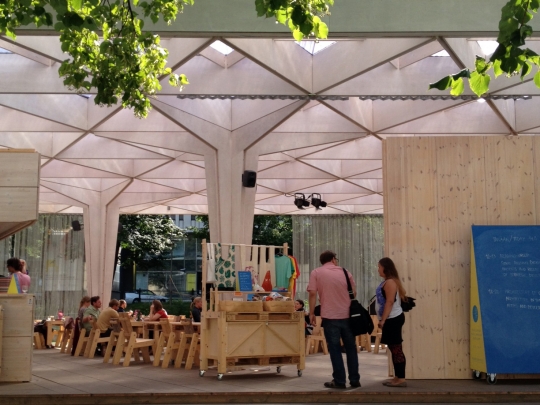 And then there was London. Marco and I came here under the auspices of HDL 2012 to learn from Nesta and IDEO about how they make innovation happen. Our focus this year is on stewardship, or the craft of innovation. During the session Philip Colligan pointed us to W. Brian Arthur who is very compelling on the subject of "Deep Craft" (conveniently, coincidentally, transcribed by Matt Jones):
Deep craft is more than knowledge. It is a set of knowings. Knowing what is likely to work and what not to work. Knowing what methods to use, what principles are likely to succeed, what parameter values to use in a given technique. Knowing whom to talk to down the corridor to get things working, how to fix things that go wrong, what to ignore, what theories to look to. This sort of craft-knowing takes science for granted and mere knowledge for granted. And it derives collectively from a shared culture of beliefs, an unspoken culture of common experience.
I like this a lot because it encapsulates in a more elegant way something that I've been calling cultures of decision making. As we study the craft of public sector innovation—this particular culture of decision making that's emerging—we're approaching it as anthropologists might. In conducting these sessions with high-performing innovators we're attempting to understand the rituals, trinkets, roles, and spaces that populate their work. And often, I should note, our own.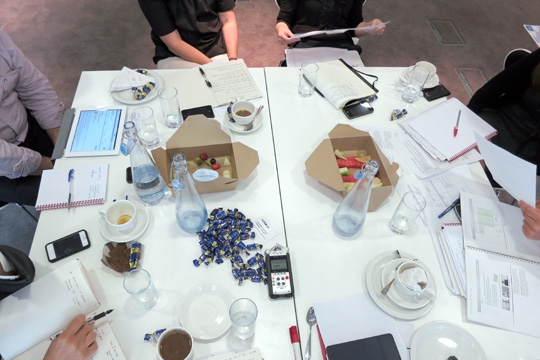 The 18 pages of dense notes in my sketchbook are testament to the caliber of conversation. Thanks to Philip Colligan, Katy Bentham, and Melani Oliver of Nesta; John Craig of Innovation Unit; and Hailey Brewer and Suzy Stone from IDEO. Many thanks also to Nesta for hosting the sessions, including a top notch picnic!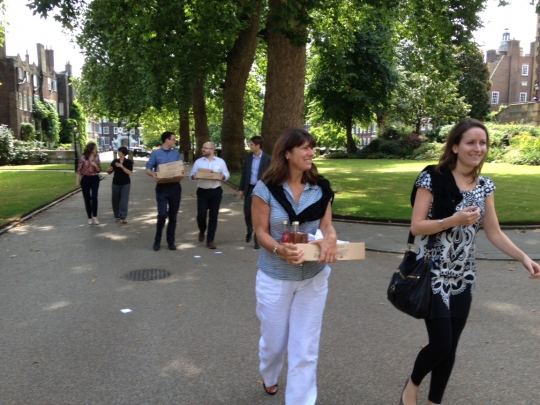 Weeknotes
Weeks 174-177
This took longer than it should have. We've been back from the summer holidays for a solid week now, but as you can see there is some lag getting back into the habit of writing.
Last time I was just heading to New York to meet up with Justin for our first of three HDL case study sessions. We had a very packed day with Rosanne Haggerty and her team from Community Solutions sharing their work in Brownsville and Rodrigo Araya and Alejandro Aravena reflecting on the reconstruction of Constitución. Justin and I are now processing those conversations and distilling it with the goal of writing two short case study papers.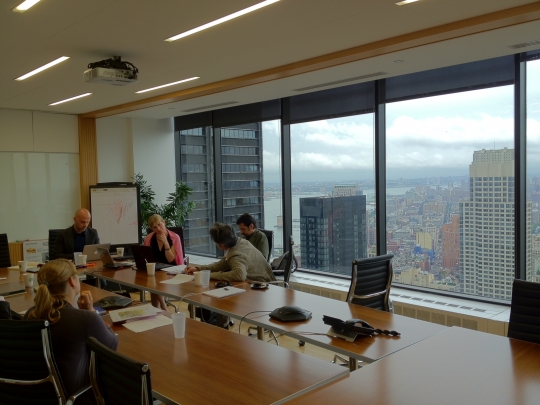 Monitor kindly loaned us one of their stunning conference rooms
On a meta level the session was instructive as well. Despite careful planning and logistics (and excellent facilities thanks to the Monitor Group), the agenda for the day was too ambitious. We spent more time on introductions and basic context than expected and felt the crush of the clock at the end of the day. In the next two sessions we are going to attempt to spend a day and a half total. Try, learn, adjust, repeat.
Next week Marco and I will zip to London to conduct the second (day and a half!) session, this time with Nesta and IDEO. Nesta are bringing their Creative Councils project and IDEO are going to share some work they've done with the US government. In other words, there's not a direct overlap in terms of content. Huh?
In organizing these case study sessions we've paired teams with slightly different content focuses as a way of ensuring that the conversation is about how innovation gets done. Our hypothesis was that by pairing up mismatched content the overall conversation would naturally veer towards the intersections between the two groups, the methods and approaches that they use to move forward. The first tentative evidence we have from the session in New York is that our hypothesis was correct: the conversation swayed back and forth between 'what' and 'how' but the room was most engaged and excited when discussing the practices rather than the specific details of poverty alleviation or urban planning.
With each case we're trying to understand the work on two levels: the 1:1000 high level overview and the 1:1 on the ground reality. The high level view is about getting the narrative of the project in order before we zoom in to look at specific important and instructive moments where something critical happened such as when funding was secured, where a key stakeholder gave their buy in, where the scope of the project changed, and so on. How did the project prepare for this, how did they weather it, and how—ultimately—did they come out the other side successfully? The impetus for this as a focus comes from a number of threads, but we can sum it up quite simply with a quotation from none other than the American boxer Mike Tyson:
Everyone has a plan until they get punched in the face.
Back here in Helsinki, our Brickstarter and Open Kitchen projects are revving up. We were very pleased to see a nice piece on Brickstarter on Wired.com last week and that gave up the impetus to do a bit of a press roundup.
Dan and I were in Kalasatama to meet with Antto and Elina about Open Kitchen. That is trending in the right direction and is about to get very busy. Next week we'll film a quick video as a Call for Applicants that should go public in early September. We want to make sure the eyes are dotted yadda-yadda-yadda before it all goes out the door, so more on this soon.
This year's Flow Festival features an installation by Nene Tsuboi and Åbäke depicting a number of unbuilt designers for Helsinki's Grilli kioskis, the city's hot dog stands. They asked me to contribute a micro manifesto about food and the street, to which I submitted the following. See also: Helsinki Street Eats and Dan's earlier piece for Artek's Manifest I. Lots of manifest(o)s.
The most visible food in the streets of Helsinki today has already passed through the human body and been reborn into the world as site specific installations of urine and temporary constructions of vomit. While we're a city that's comfortable with pissing in the street, eating is puzzlingly hidden. It's mostly reserved for the drunken stumble to a grilli (which everyone hopes to forget the next morning) and slurping porridge in a tori (where one is hidden amongst the ubiquitous orange tarps).

Despite Helsinki's architectural commentary by bodily function we have all the right ingredients for an urban culinary renaissance. In 2012 Nordic food is the envy of the world and Helsinki's specific architectural heritage gifts it a variety of iconic lippakioskis and grilli structures waiting to be linked into a city-wide network of grub hubs. If only they served something worth remembering.

Oh but they will! Bring on the curry siika, poro bratwurst, and birch soda. This is anything but a trend. It's a sign of a culture that embraces diversity, in a meal and on the street. Street food is about relearning how to make the city our own not just for occasional festivals but a real—and really delicious—part of everyday life.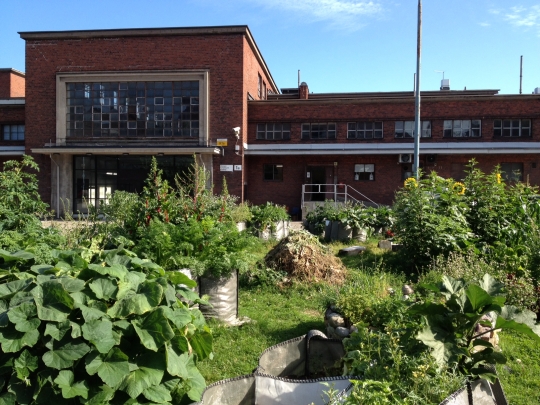 Tukkutori's edible garden is blooming very well in a series of grow bags. This will a great addition to Kalasatama when it's finished later this year.
In both Brickstarter and Open Kitchen we're increasingly turning our attention to how the projects will grow beyond Sitra. How far will we take the work? When do we look for partners to carry it forward? What does that handoff look like? This is a necessity of the work, on one hand, but we're also trying to use it as a point of innovation in and of itself. From the perspective of strategic design is there a different way to transition projects from in house to out of house, for instance? Early days on these thoughts.
Marco was quoted talking about Low2No and our Design Exchange Programme in the July issue of Wallpaper Magazine. They don't seem to have the article online, but the author has posted the full text on his blog. And speaking of Design Exchange, our second placement has started work at the Helsinki Department of Social Services. She will introduce herself soon on the DEP blog.
Juha Kronqvist is himself an embedded designer doing good work with a hospital in central Finland and Aalto University students. Recently he released this video that shows some of their paper ptototying of hospital spaces. You can also read more on their blog.
Lately we've been holding our project meetings in a construction site. The renovation of Sitra's 12th floor that we have been working on for a couple months now is finally complete. The space is light, bright, flexible. Personally I'm very happy with the way it has come together. It's definitely a step forward for our facilities and will take some getting used to, but the net effect is that we now have the kind of collaborative work environment that was hard to come by previously in the Sitra tower. Once people have settled in to the space we'll be posting some further thoughts on the relationship between workspaces and working cultures.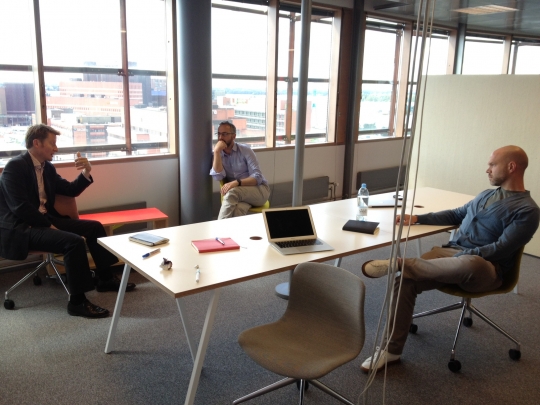 When this was taken there was still some electrical work to be done, as you can see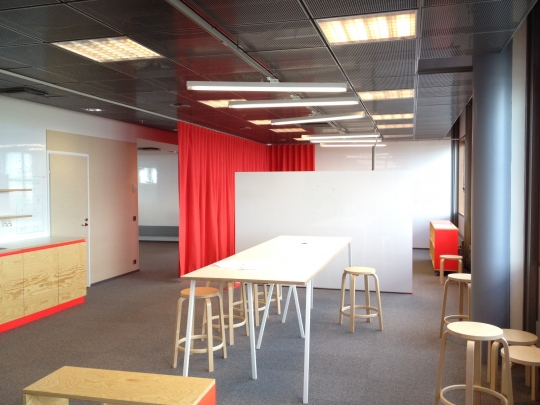 Our new kitchen, featuring an invisible coffee machine (until we get a new one)
Last but not least, if you are in Helsinki on Tuesday, August 14th you are very welcome to stop by the Paviljonki located between the Design and Architecture museums in Ullanlinna for a double whammy of strategic design.
Dan will be there to talk about his Strelka press book Dark Matter and Trojan Horses: A Strategic Design Vocabulary and I'll be sharing In Studio: Recipes for Systemic Change. Come have a coffee with us!