Weeknotes
Weeks 142-147
And... decloak!
Hi, we're back. Closing out all of the work and accounts before the end of the year became more hectic than any of us expected and that means we ended up with nothing more than crickets on this blog.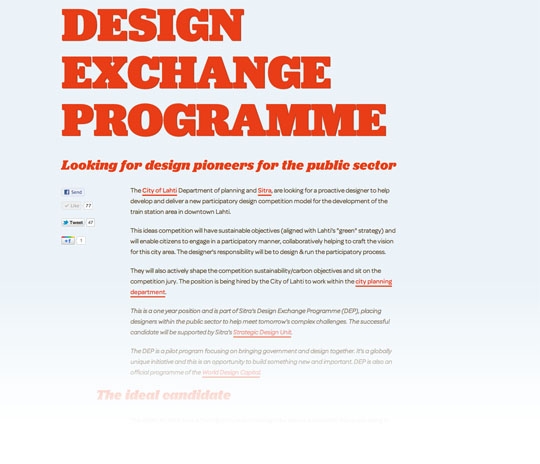 The Design Exchange Programme was announced in December and is now off to a promising start
In the interim, perhaps the biggest news is that we launched a new project called the Design Exchange Programme. At the moment it's a small and modest with just one placement. We'll have a full introduction to the chosen candidate in due time, but for now we would like to congratulate Sara Ikävalo on her successful application and thank her for taking this leap with us. We look forward to beginning in earnest in February.
Sara was the winning candidate out of a pool of nine applicates, four of which we had interviews with just before the holidays. With our Lahti placement now specified, we're beginning to look at the second partnership with another government body here in Finland. Updates when we can share them.
Otherwise: much of the same here. Dan and I are continuining to crunch on the street food booklet which we are now a bit late one. We're learning the hard way what it's like to bite off more than you can chew. Then again, the up side of never promosing a specific delivery date is that you're never late. But all jokes aside, we do hope to have a draft available for download imminently. At the moment we're doing the dilligence of clearing publication rights for archival images and other fun feats of legal maneuvering.
We have also been doing quite a lot of internal 'consulting' work on two fronts. First and foremost to work through our in-house strategy for internationalization, an update to our shared ways of working, and this inevitably means also looking at internal culture. These are mostly about behaviors and practices, but are always bound up in the artefacts and tools as well. So we find ourselves sketching out new document types, interfaces, and other bits of the internal Sitra workflow. We're interested in moving these into paper prototyping at some point, and then hopefully further into light weight software prototyping.
Marco and Justin are busy as ever with Low2No. Marco has also been spending time lately in discussions about potential upcoming work. Since we're not a commercial firm we don't have business development, per se, but we still spend a fairly good chunk of time exploring opportunities with a variety of potential partners to make sure that the projects we take part in are ones where we feel we have something useful to contribute.
And to close I'll leave you with nearly identical snapshots from two Nordic capitals near the end of the year: